He won't be serving hard time, that's for sure
A tribute to Ray Traylor, aka, The Big Boss Man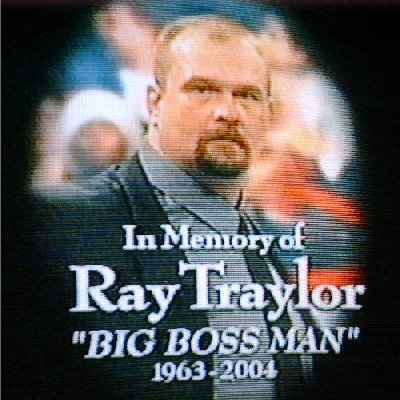 Growing up Ray Traylor, who a lot of us wrestling fans remember as The Big Boss Man, was one of my favorite wrestlers in the old WWF era when Hulkamania ran wild, and I was a still big fan of his in his second run in the WWF from 1998-2002., He passed away last Thursday (9/23/2004) via a heart attack. So here is a little tribute biography to one of the my most memorable figures in professional wrestling.

As certain other friends of mine can attest, he was one of my all-time favorite wrestlers. He was fantastic in his early days in the then-WWF when he came in with good 'ol Slick as his manager, then we he made that babyface turn and became a fan favorite was when he really won me over. I'll never forget his Main Event steel cage matches with Hulk Hogan for the WWF Championship, and the sick superplex he took from the top of the cage from Hogan. One of my other favorite angles he was in during his first run in the WWF from 1987-1993 was his feud with Mr. Perfect which culminated in a match at Summerslam where the loser had to spend a day in jail. Another moment was his one-on-one showdown with Ric Flair in the Royal Rumble, where he charged at Ric, determined to knock him over the ropes, but Flair ducked and Boss Man went head first out to the arena floor. Best of all, his theme for that era was one of my faves, and it is also on one of mix cds of themes.

In 1992 and into 1993, his status was declining in the WWF due to him ignoring officials pleas for him to lose weight, and thus when his contract expired in 1993 it wasn't renewed and he headed right on over to WCW later that year being dubbed as "The Boss" almost a carbon-copy of his Big Boss Man gimmick. He had a series of great matches with Vader, which is nearly unheard of when you combine two big-man wrestlers.

Unfortunately, WWF recognized the "gimmick infringement" and threatened a lawsuit to WCW if Traylor wasn't given a makeover and so at the 1994 Spring Stampede after losing to Vader, a WCW Commissioner stripped Traylor of his right to where the police officer uniform and of "The Boss" name. Shortly after that Traylor returned under a new persona as "The Guardian Angel" in what was rather a more forgettable gimmick and was shelved in quick fashion after only being around for under a year. Eventually the gimmick found its way into the archives of Wrestlecrap .

In 1995 Traylor brought back his old "Big Bubba Rogers" gimmick in WCW and was shortly inducted into Kevin Sullivan's "Dungeon of Doom" faction with the likes of more doomed gimmicks such as The Yeti, and The Leprechaun. He remained there well into 1996 doing not much of anything of note other than being a loyal DoD lackey. Towards the end of 1996 he jumped factions from the Dungeon of Doom into the red hot New World Order (nWo). He remained there for a good year, but the nWo became cluttered with dead weight as the years wore on, and one-by-one they eliminated the enhancement talent and Big Bubba was the next to get the boot after a series of losses on a September 1997 edition of Nitro. Right after that, Bubba started wrestling under his real name as Ray Traylor and formed a stable with the Steiners and Ted Dibiase. He teamed with them until early 1998 until Scott Steiner turned, and then Traylor just kinda vanished off the Nitro scene and was only scene on lower-tiered shows like Worldwide and Saturday Night until his contract expired in the summer of 1998.

In October of 1998, Ray Traylor returned to the WWF as the Big Boss Man as Vince McMahon's new bodyguard sporting a new Black Security guard outfit. Soon others joined Vince's new faction like Ken Shamrock, Test, and The Big Show and his new group was dubbed "The Corporation." The Bossman had a good push upon his return and won the Tag Team titles with Ken Shamrock in December 1998 and held the belts for almost two months. While holding the tag team straps he became the second ever Hardcore champion (back when that title actually meant a little something) and exhanged the belt back and forth with Al Snow for the better part of 1999. It was also around this time Boss Man got a huge push, as he had a Hell in a Cell match with the Undertaker which was the second main attraction to the disastrous (IMO) Wrestlemania XV. After losing, other members of Undertaker's faction "The Ministry of Darkness" ran in and hung Boss Man from the cage. It was billed as one of the worst matches of 1999, but BossMan had one more ace up his sleeve to top it.

To cap off his long feud with Al Snow which featured such forgettable moments as Boss Man cooking up Al's pet dog "pepper" and making Al Snow actually eat it right in front of him. Their epic, near half year long feud was finished off by having the first and only to date "Kennel of Hell" match at the '99 Unforgiven PPV. It was a decent idea on paper where the old school WWF cage was surrounded by the Hell in a Cell cage, and the gap inbetween both cages was surrounded by actual bloodhounds that decided to crap on the arena floor during the match. The first wrestler to escape wins. You could tell that both wrestlers were really trying to give it their all to make the match work, but the audience at the arena just weren't into it. After a less-than-memorable 10 minutes of action, Al Snow escaped and won in what was almost unanimously voted as the worst match of 1999.

But Boss Man was rewarded with another big run with the Big Show, no pun intended. Unforunately, there was a lot more forgettable build-up for their big clash. In the storylines, Big Show's father died and Boss Man decided to really drive the point home as he interrupted his funeral and hooked up the casket to his vehicle and drove off with it as the Big Show jumped on it as it was getting dragged down the street. This segment alone was also inducted into the aforementioned Wrestlecrap archives. Other unmemorable segments from this feud was the Boss Man destroying Big Show's dad's pocket watch he cherished so much and visiting Big Show's mother's home and where he got her to admit that he was a bastard child. All this horrendous build-up led to the two's anticlimactic encounter where they co-headlined the Armageddon '99 PPV. To add more to the match, the Big Show won the WWE title the month before, and it was on the line. For a match that had months of build up, which led to almost a good hour of segments, interviews, and tag matches for their huge one-on-one encounter for the title, the match lasted not even 5 minutes where Show annihilated the hell out of the Boss Man to retain the title so that the main event of McMahon and Triple H could last 30 straight minutes.

After that big loss, Boss Man started his decline from the upper mid card into the lower tier of WWF talent. He lost the Hardcore title for the last time in early 2000. He had one last decent push where he brought in fellow prison guard, Bull Buchanon and the two formed a tag team and won a bout against Al Snow & Steve Blackman at Wrestlemania XVI and against the APA the following month at Backlash. The team lasted only several months though as Buchanon and Boss Man parted ways in June 2000. Boss Man didn't last too long on his own in WWF programming as he was fizzled out of the picture by the end of 2000, and he mostly focused on being a WWF road agent and trainer for the better part of the next year.

Boss Man did make a brief return in late 2001 as he helped Booker T jumped Steve Austin on an episode of Smackdown. The two teamed for a couple weeks then Boss Man was on his own again and wasn't really involved in anymore big angles. His last PPV appearance if I recall correctly was in the 2002 Royal Rumble match. I believe he was also part of a 6-man tag on a live Heat prior to Wrestlemania X8, but that doesn't really count as a PPV appearance now does it? Boss Man was part of the lottery draft, and got drafted on the RAW roster. He appeared several times on its programs before taking on an assignment to watch over WWE's developmental program in Ohio. And that was his last WWE assignment to my knowledge.

I'll miss the Boss Man, from his best to his worst moments that I described above, he always did what was asked of him and he gave it his all to make it work. Pretty much the word going around the web right now is that Traylor was a great guy to have in the locker room, never in a bad mood and always walking around with his head up and a big smile on his face. It is a big rarity to have a tremendous co-worker like Ray Traylor. As I mentioned before, as I will again he was one of my favorites. He was also one of my favorite characters to use in the WWF games he appeared in. I almost always picked him in the Arcade classic WWF Wrestlefest, and the N64 legend, No Mercy. Godspeed, Boss Man, we all know you are in a better place.