Contact me via - - - Email: dkulas@game2extreme.com | ICQ: 4927925 | AOL Instant Messenger: GFgruel | MSN Messenger: dkulas@hotmail.com
Sign Guestbook | View Guestbook


Pic 1: That's me in the lunchroom at school, this photo was taken in May 1999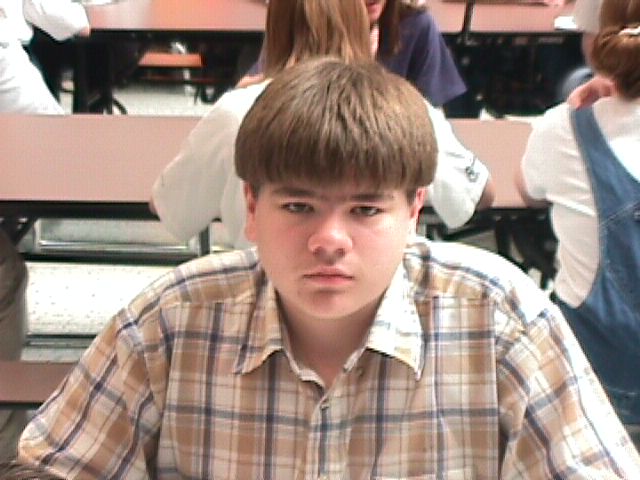 Pic 2: That's me in one of the school hallways during my Graphic Arts Class, Pic taken around Sep. 2000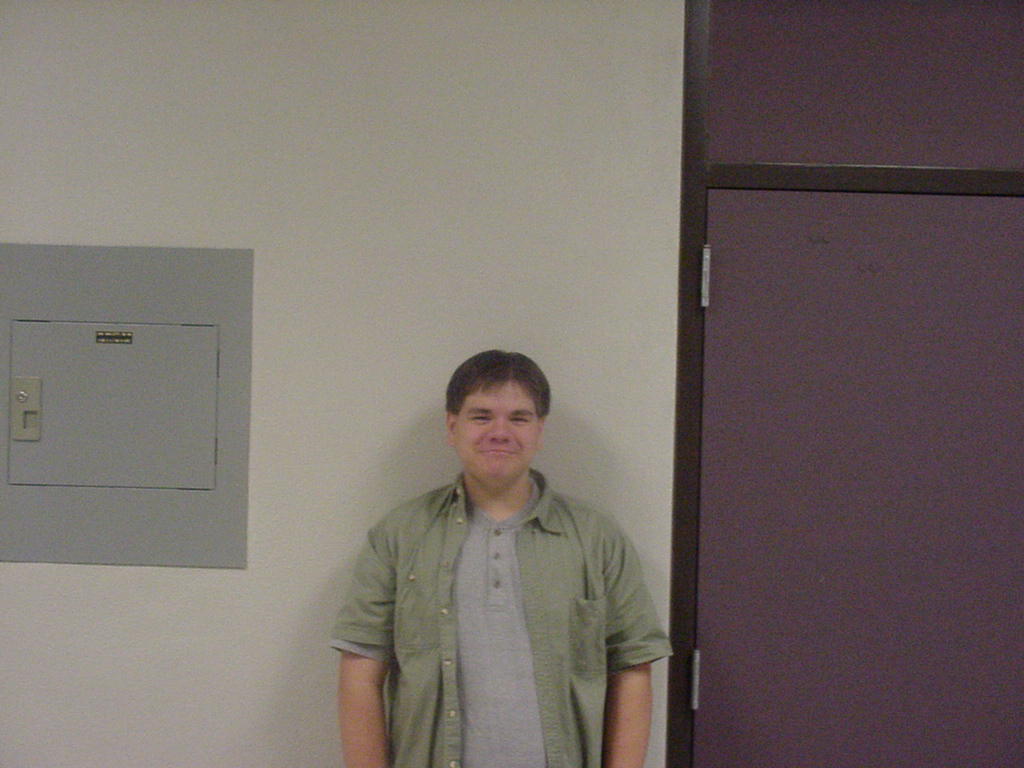 Pic 3: Me inside of my Graphics Arts Crappy I-Mac lab, filled with slow-ass computers, doing my "Thinker" Pose(To the right of me is my friend, Rich)Pic taken in October 2000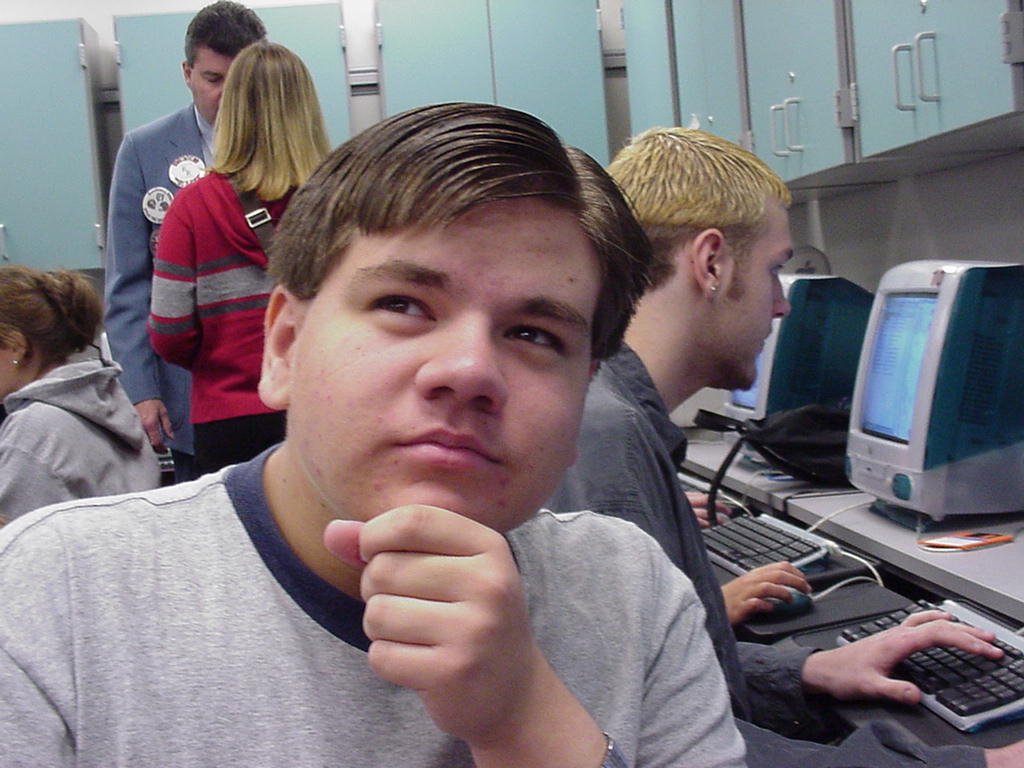 Pic 4: A quick shot taken at me at my Imac in my Graphics Art Class in December 2000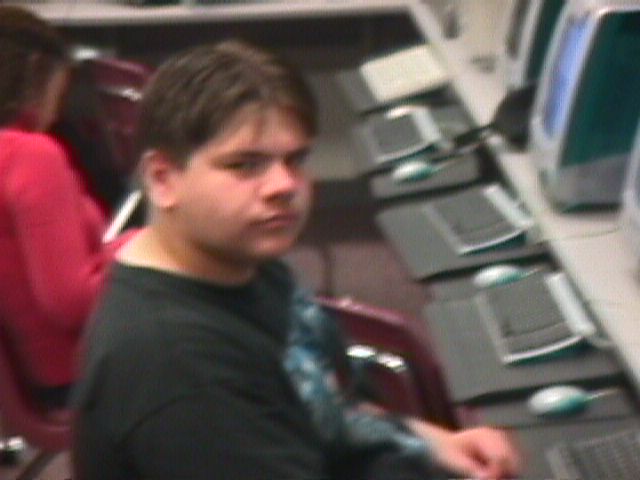 Pic 5: Me in a santa hat for a project for class. Pic taken in Dec. 2000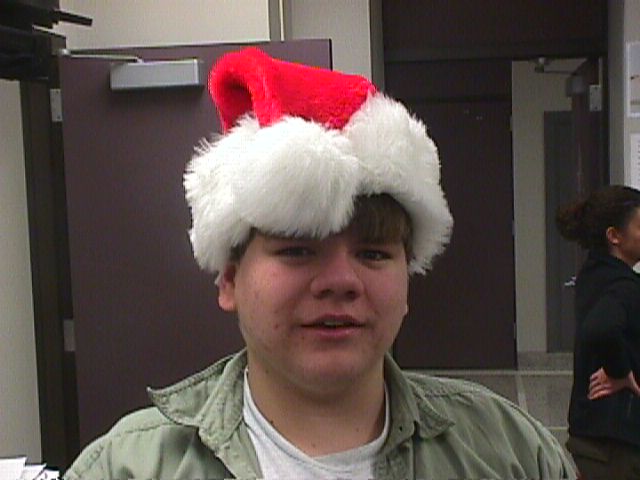 Pic 6: Me demonstrating my own self-made XFL shirt, Pic taken in January 2001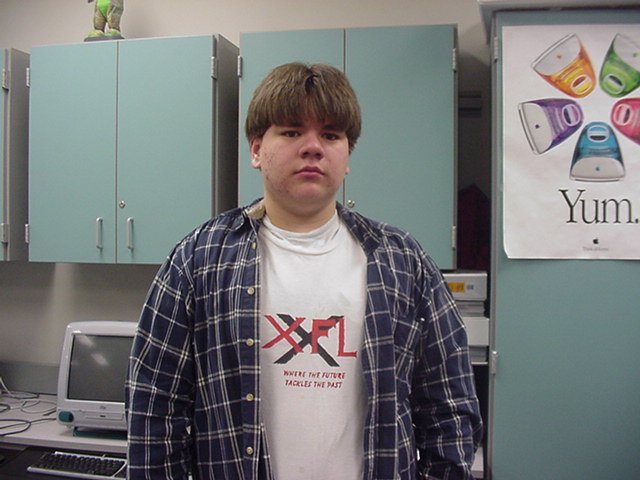 Pic 7: My friend Rich lets us knows that Folgers is his favorite coffee....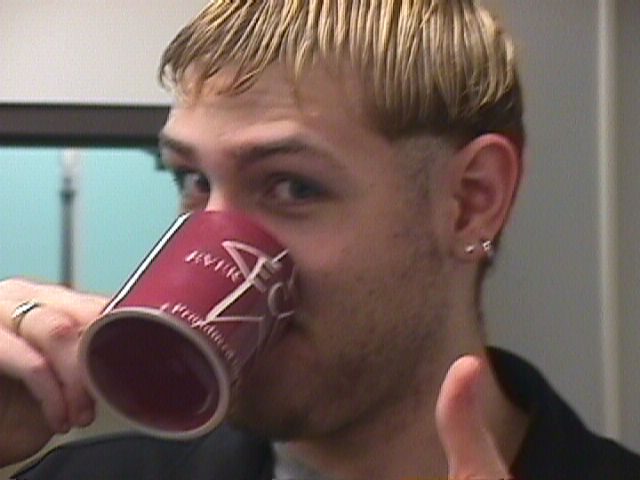 (Pic Taken Nov 2000)
Pic 8: Here I am in my final week of school, happy as hell posing for the camera, while that guy behind me in the orange shirt, Brian, masterbates...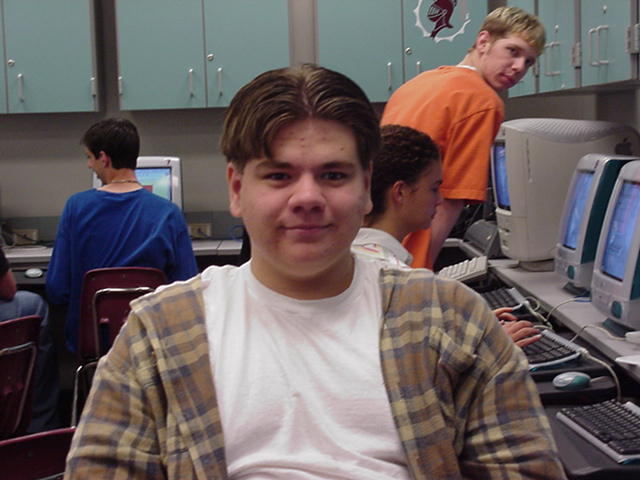 (Pic Taken May 2001)
Pic 9: Here Rich shows us what he does best in class which is....


(Pic Taken May 2001)
Pic 10: Here I am at my friends house, who caught me by surprise with his web camera.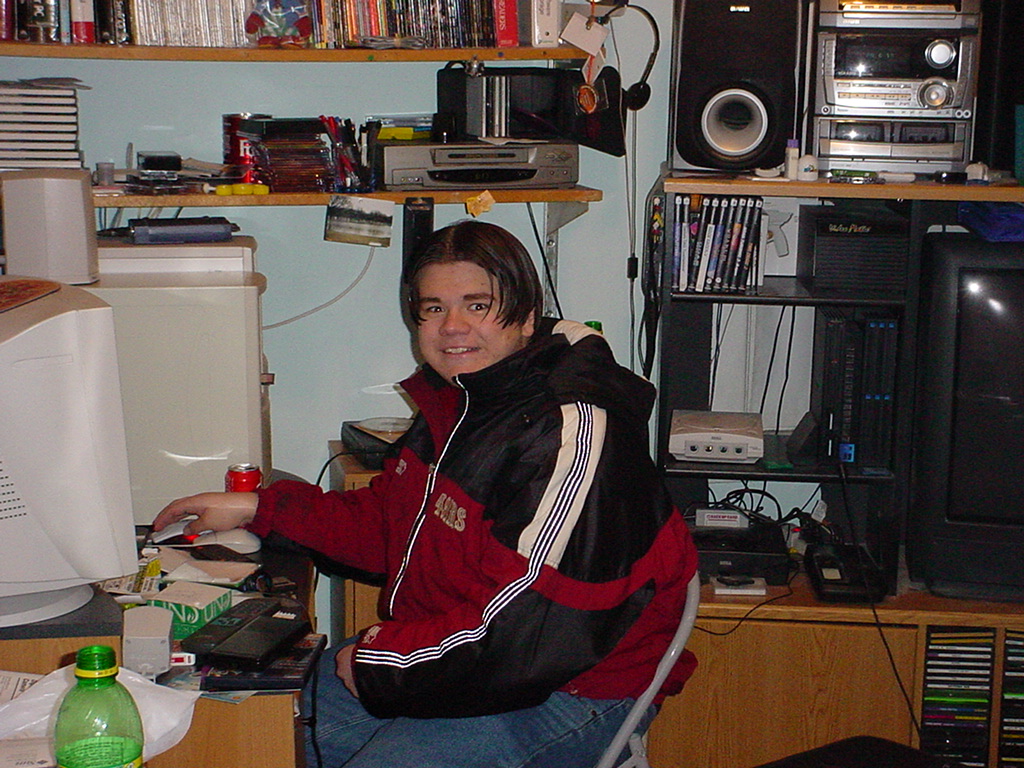 (Pic Taken November 2001)
Pics 11 & 12: Here I am at a friends house in these 2 shots.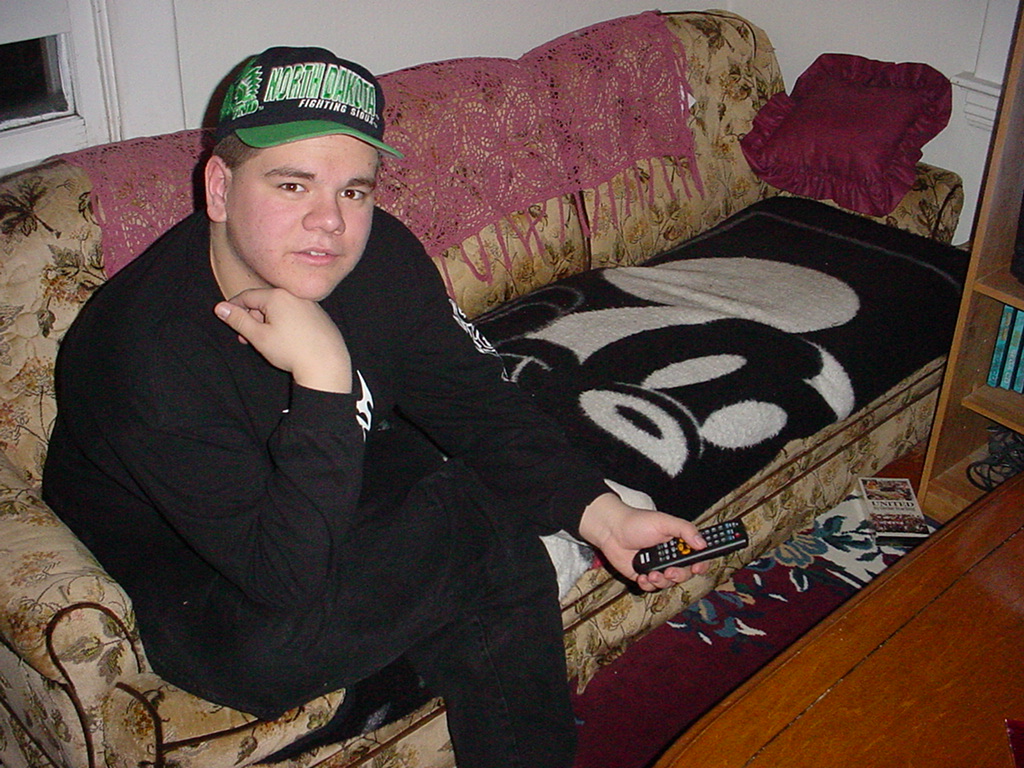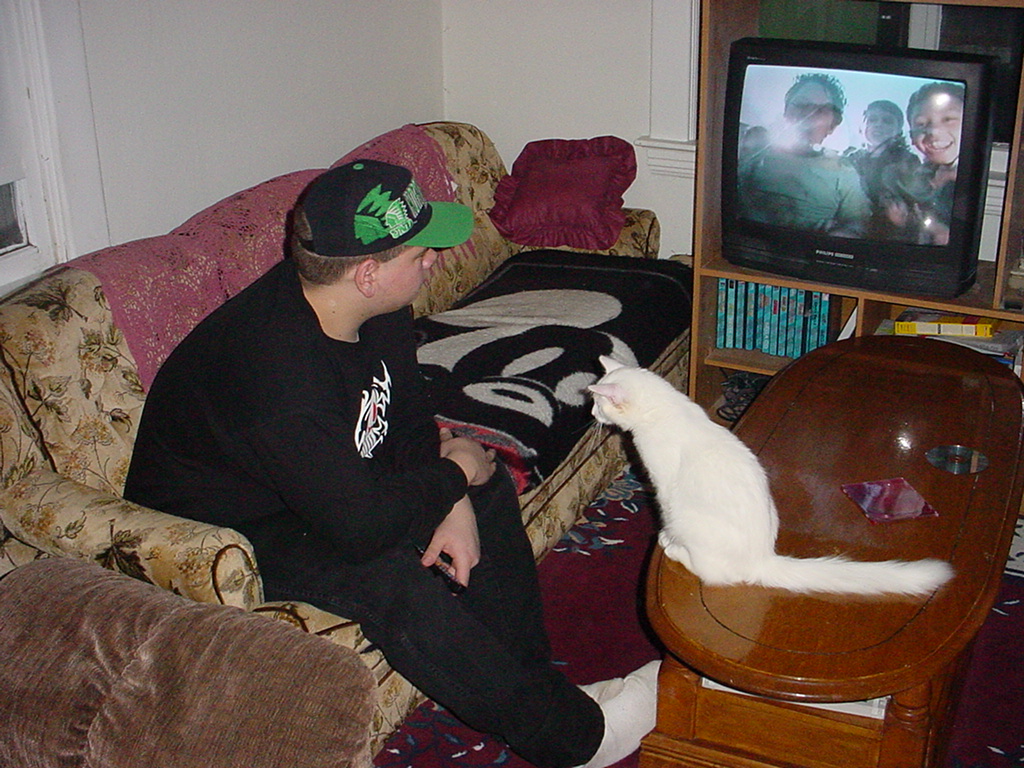 (Pics Taken January 2002)
Pic 13, 14, 15, and 16: These four pics were taken at my apartment. There are two pics of me with a bottle of Mike's Lemonade, the guy with the blonde hair is my roommate, Matt, and the guy with the burning sock is my friend, Nick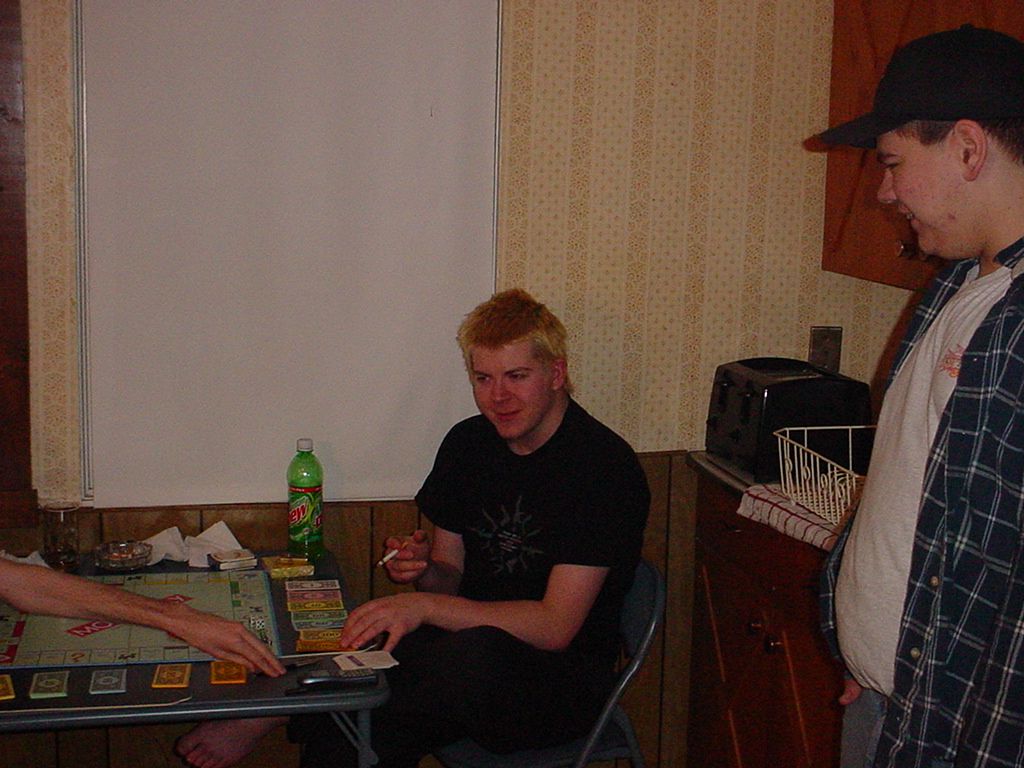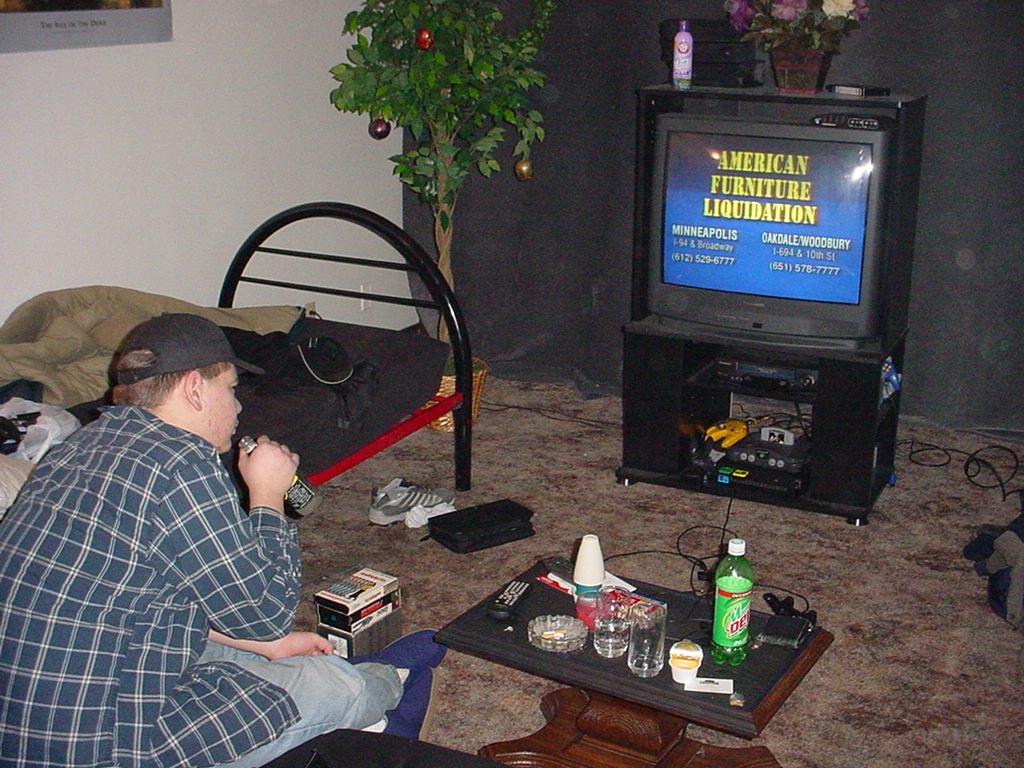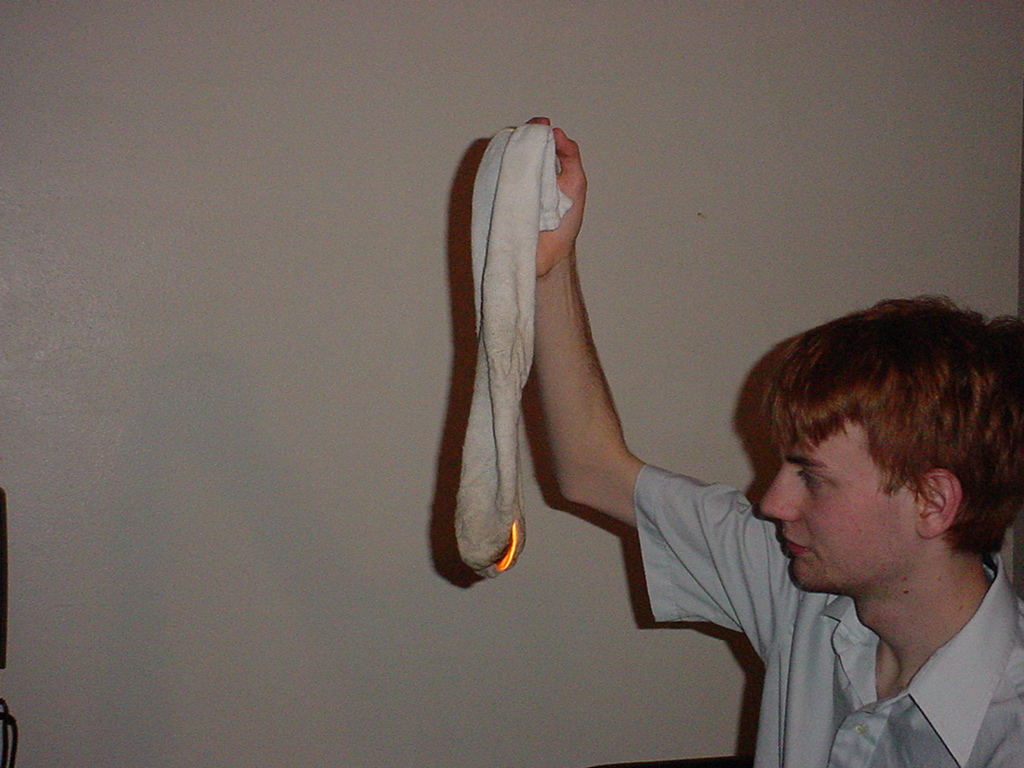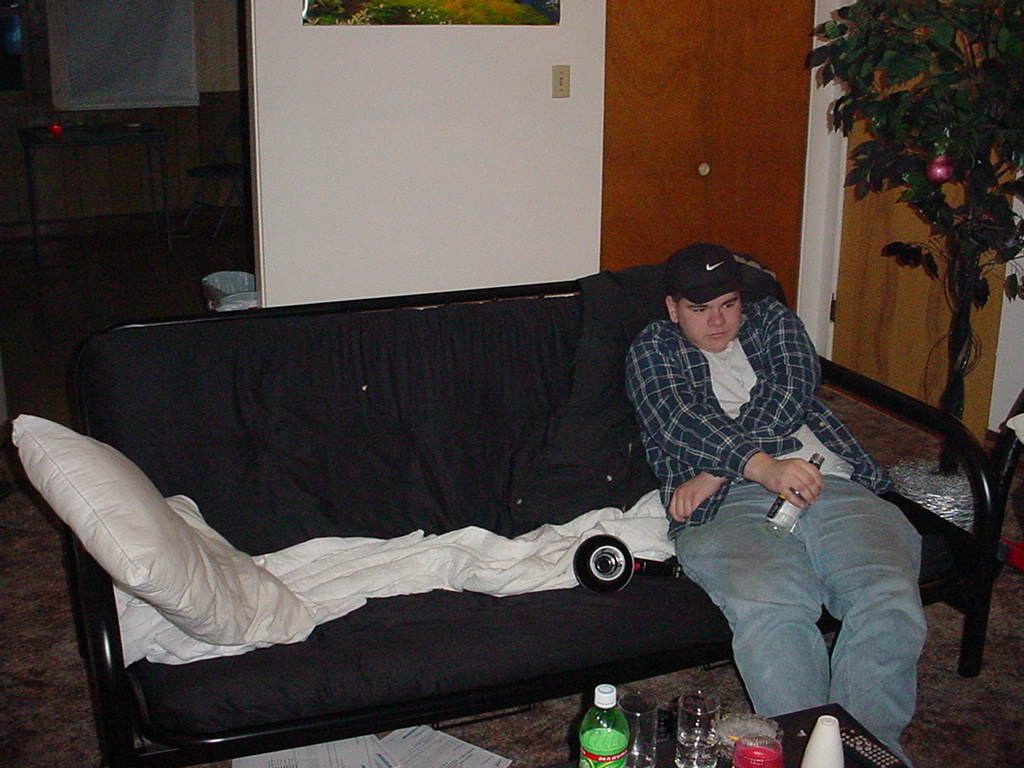 (Pics Taken February 2002)
Pic 17: "roadkill" chris harpster was working on my computer and fried my brand new P4 ready power supply! he pushed the joke even further by hanging the fried power supply up on a board, and laughing about it, then to add even more insult to injury, he took a pic of it so I can put it here. That Bastard!


(Pic Taken August 2002)
Pic 18: Here is the best pic ever. Me and my buddy Rich, doing the nWo pose after a new successful motherboard installation. :)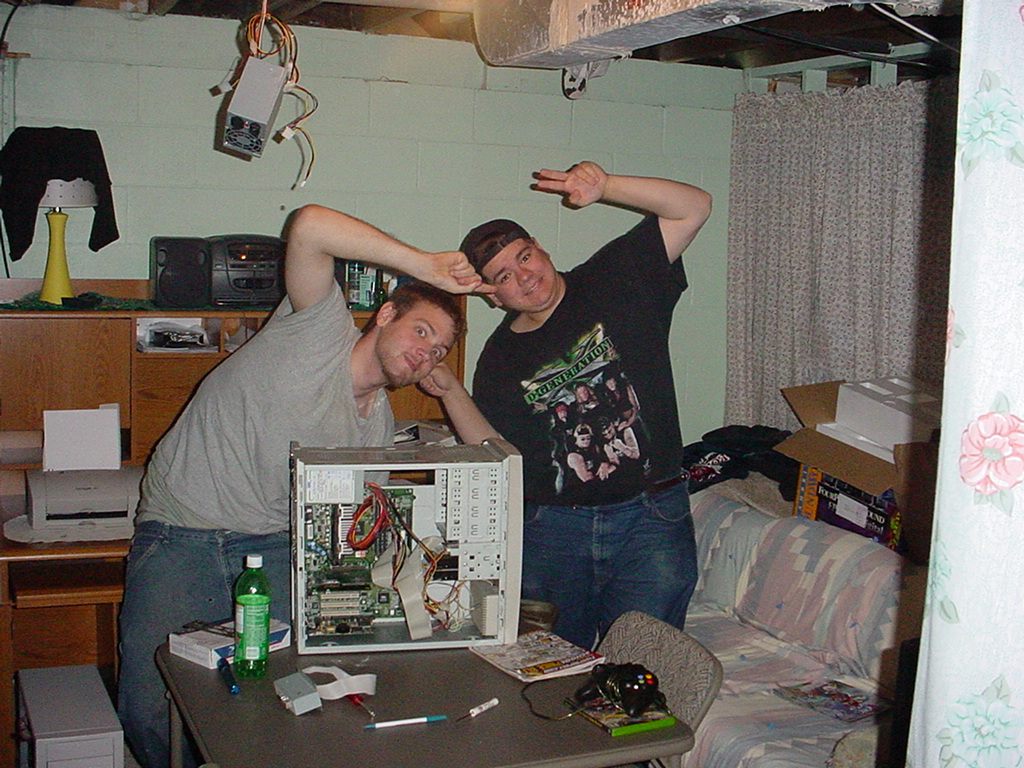 (Pic Taken August 2002)
Pics 19 & 20: Here's me in my place trying out the ever-elite X-Box Communicator headset. Lucky me got to be X-Box Live Beta tester.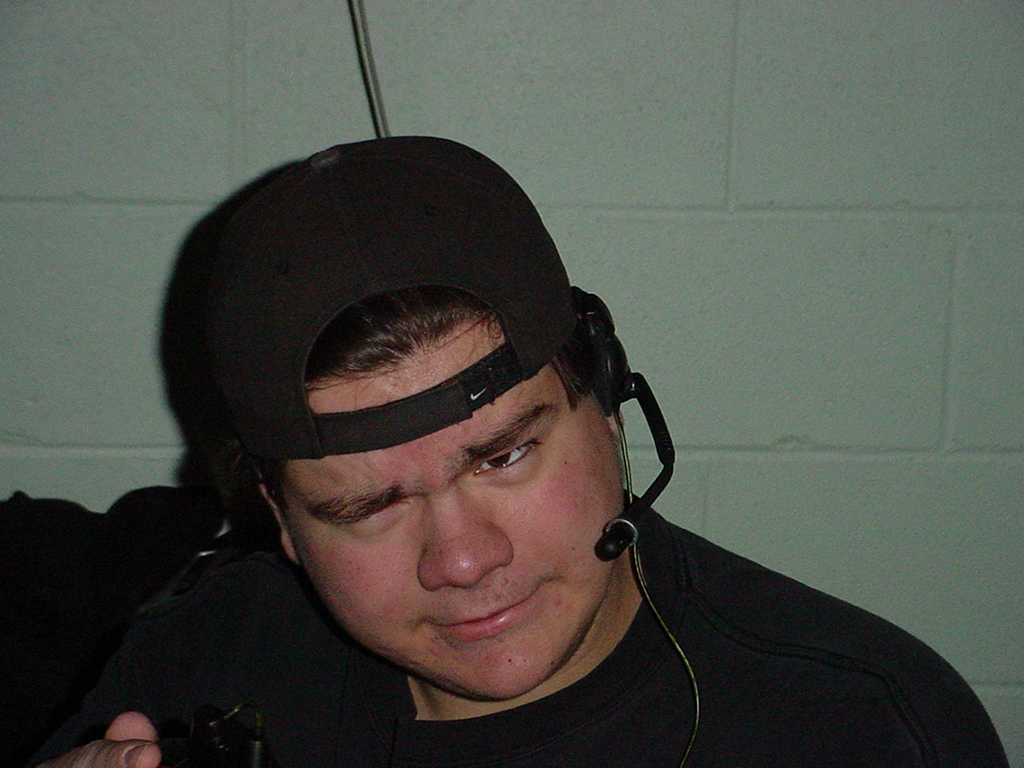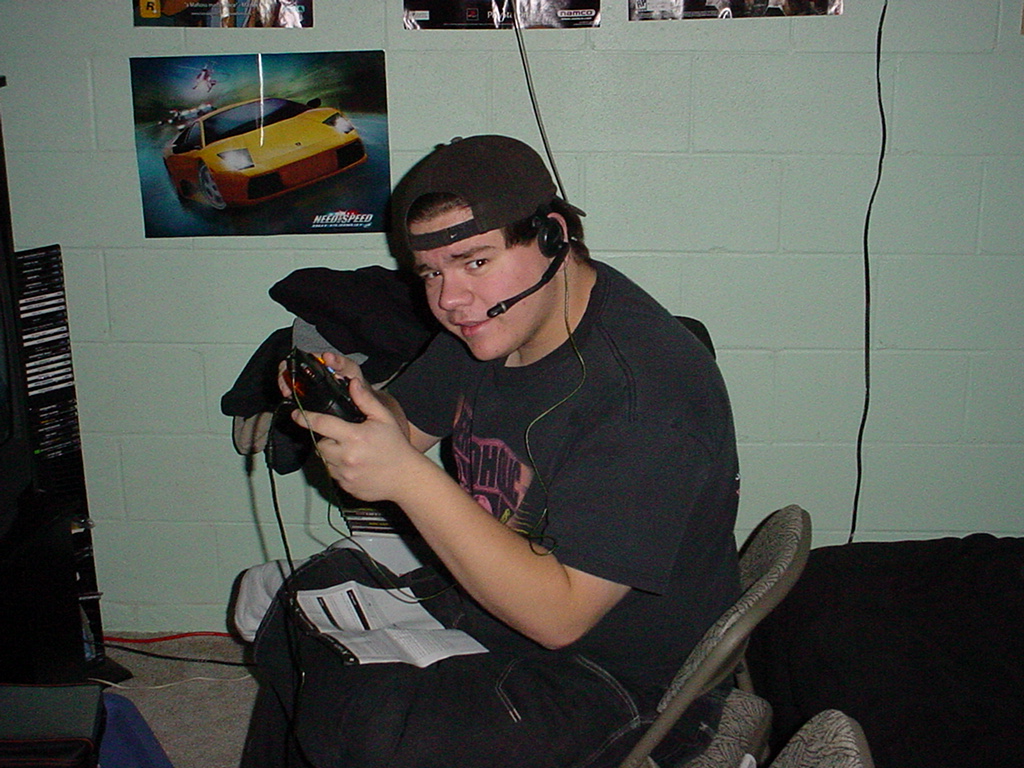 (Pics Taken October 2002)
Pic 21: Wohoo! I got a brand new digi-camera for my 20th birthday a couple days ago, and from now on the rest of the pics are from me. This one here is me in front of my first vehicle, the 1991 Chevy Shitica. Damn water pump went out on it a week ago and cost me $400!!!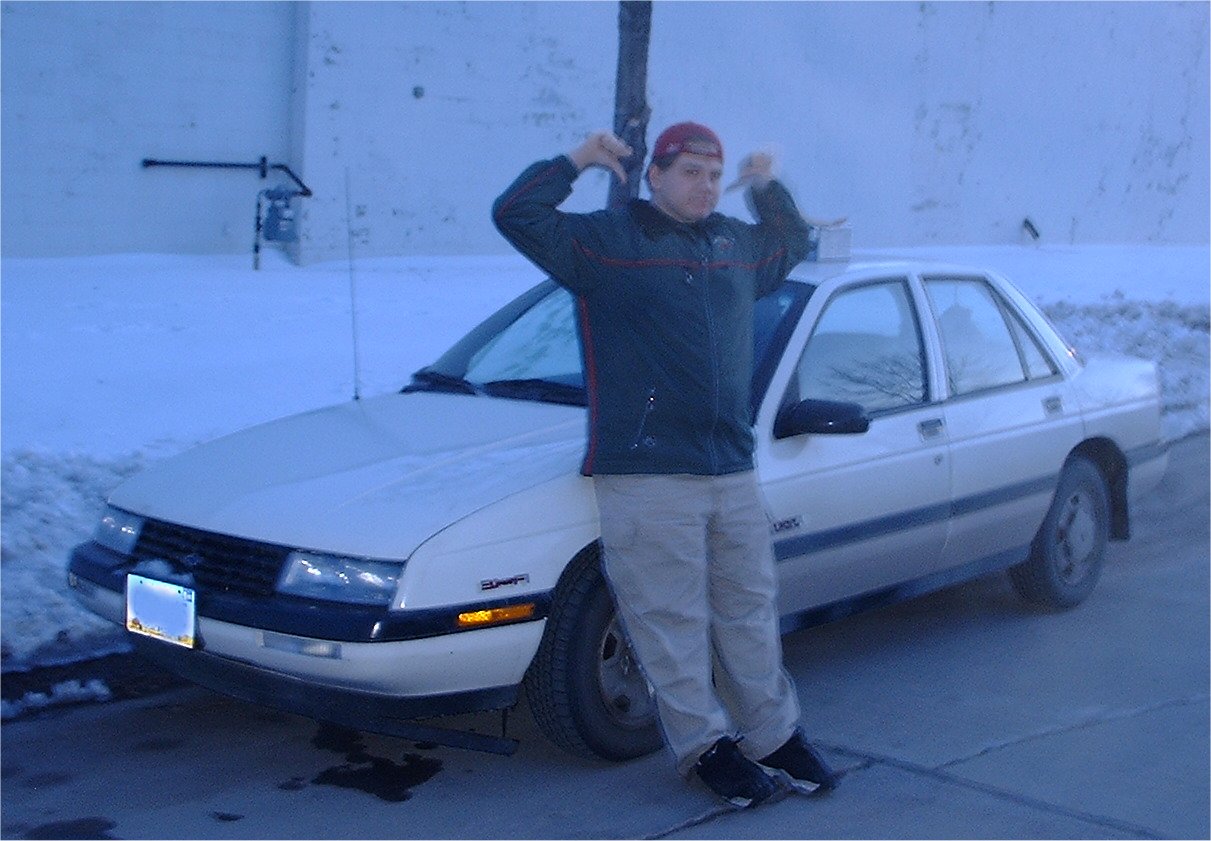 (Pic Taken April 2003)
Pics 22 & 23: Fellow friend and co-worker, Corey Sullivan, aka the whole fucking show!!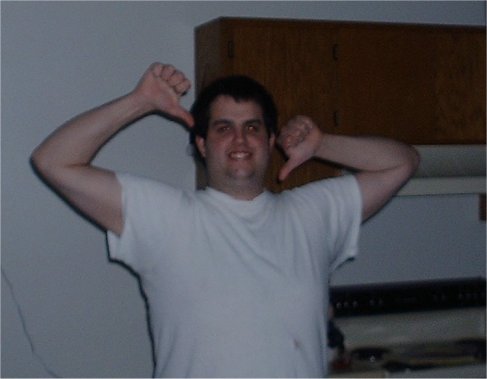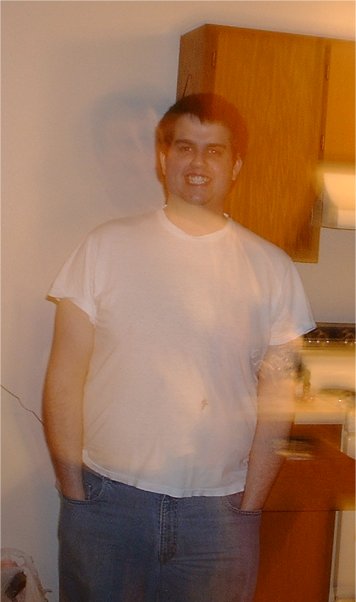 (Pics Taken April 2003)
Pics 24, 25 & 26: All the pics from numbers 24 thru 31 were taken at this outdoor BBQ me and my buddies had. Me trying to play Hak! And there is my little bro, Joey pictured to the right of me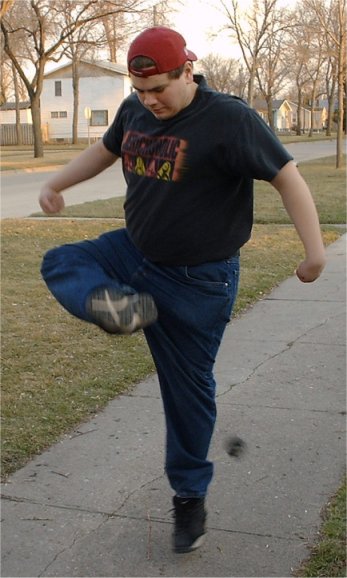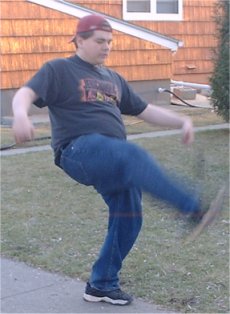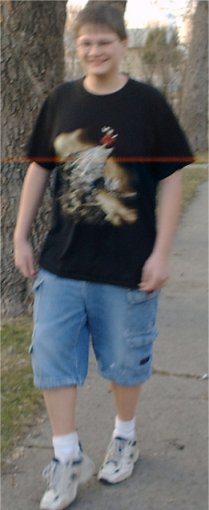 (Pics Taken April 2003)
Pics 27, 28, 29: Say hello to a couple of my friends, Richard Hauck (left side, everyone calls him Rocket), and that's Jarred Hilliard, aka Jizarooh, in the middle who is giving us the one fingered salute! And at the right is the other Richard you've seen in the couple of pics above!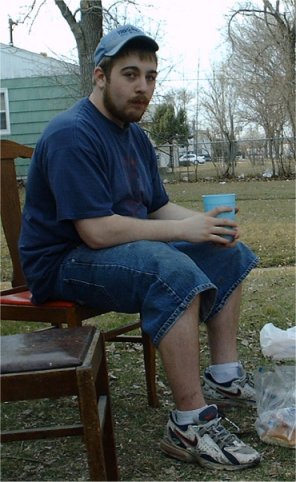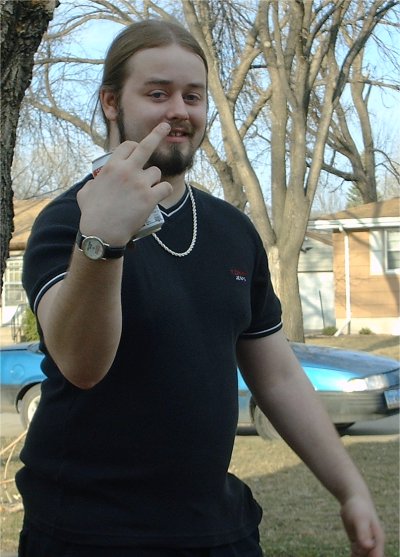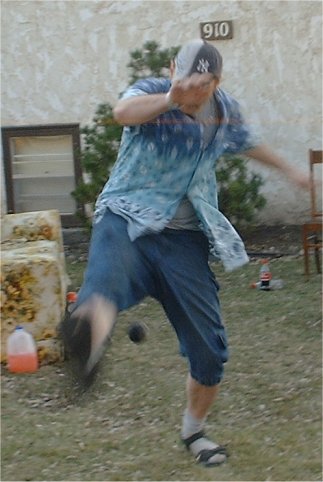 (Pics Taken April 2003)
Pics 30 & 31: Here's a couple of group shots. On the left on the couch is Rich, Joey, and Mike. On the right is all of us playing some hak.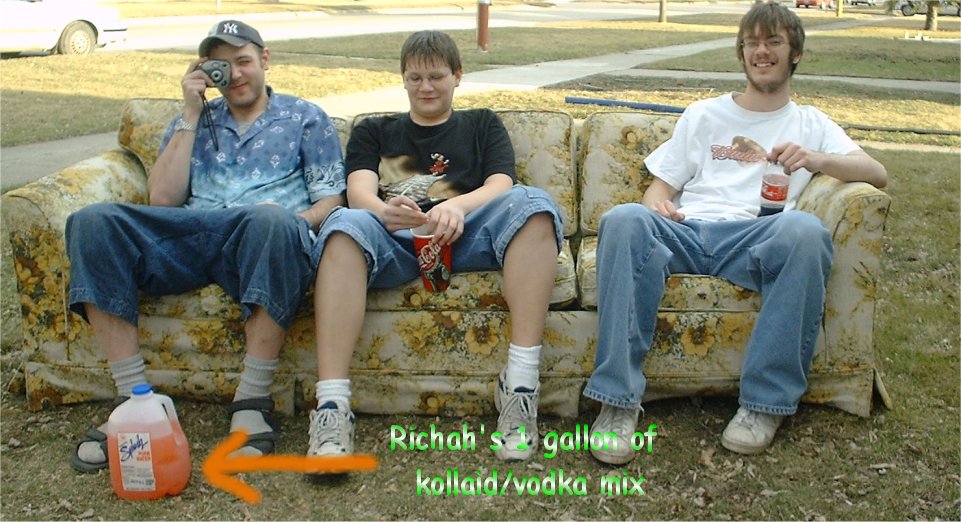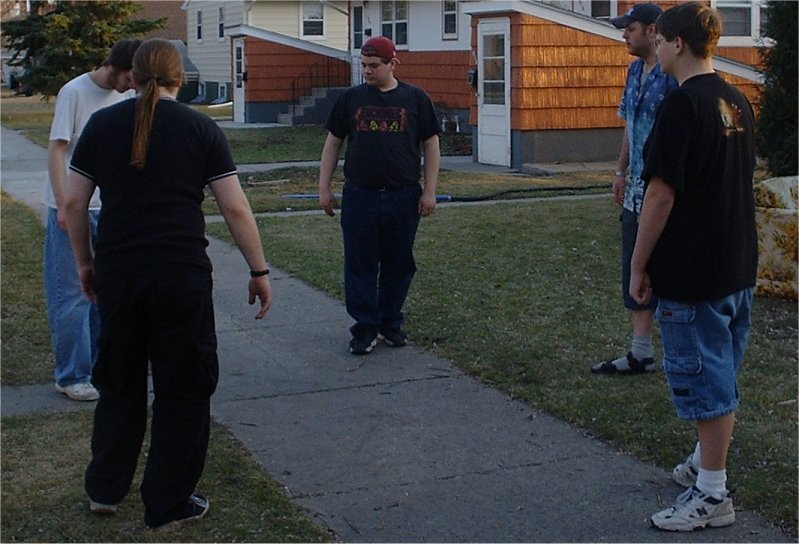 (Pics Taken April 2003)
Pic 32: Here's my coworkers, Carlos & Kristina. Catching 'em off guard at work on my day off :) Me, Corey and these two make up the planogram team at Target. Hard to admit I like my job, but these guys make it possible. You guys rock!!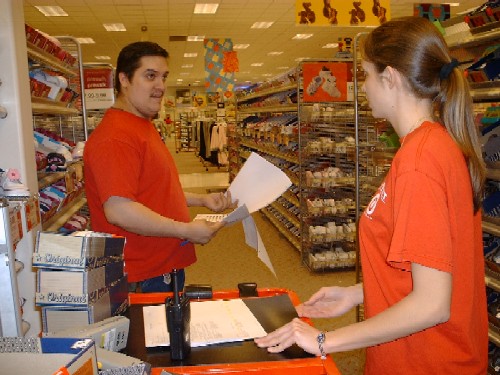 (Pic Taken April 2003)
Pics 33, 34 & 35: I was digging around home and found all these old poloaroids. Here's two that look interesting....me the dish-boy from my Hardee's days(March 2001), a pic of me and my buddies Rich & Chris at my open house (May 2001), and me with a newly bic'ed head!(Dec.2001)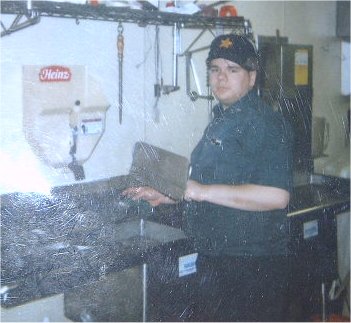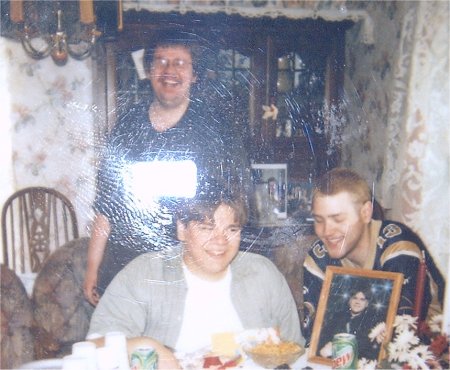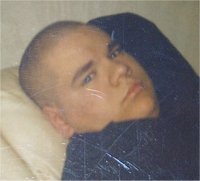 (Pics Taken in March 2001, May 2001, and December 2001, respectively)
Pic 36: Here's my older bro, Bob in his hair-metal pose.


(Pic Taken April 2003)
Pics 37, 38, 39, 40: Here's me with one of the many mascots parading the floors at E3 2003 in LA, then in the middle is John and Forrest who I shared a hotel and attended E3 with, and on the right is what damn near each night in Cali ended up as...a big 'ol drunk-fest!, and on the far right is my chillin on the streets of LA!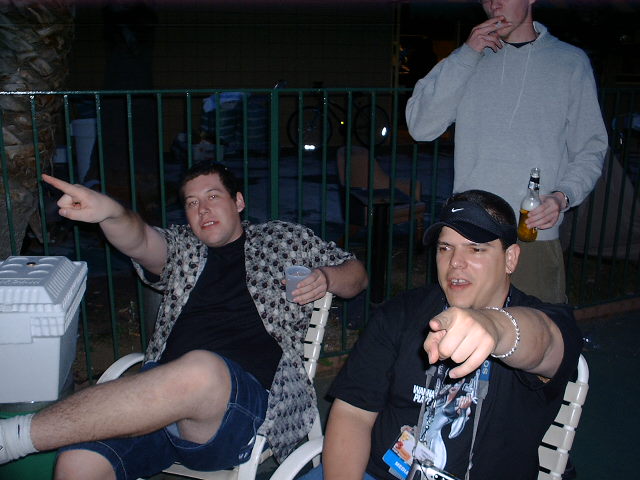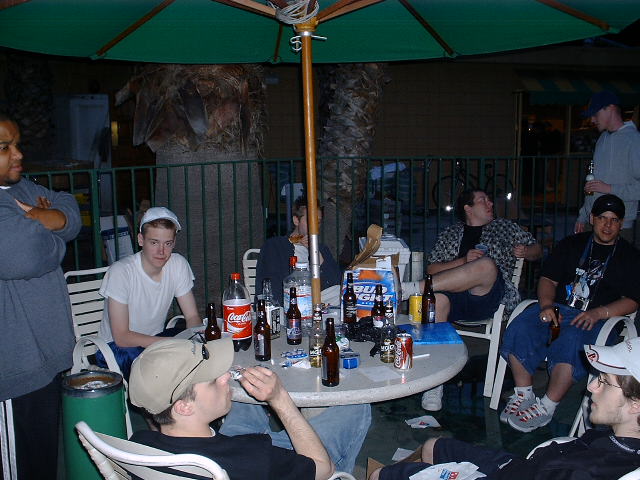 (Pics Taken May 2003)
Pics 41, 42, 43, 44: A little later that summer I did Karaoke at a local sports bar, and a bunch of my coworkers came to see me sing for the hell of it. On the far left is me with the mic, then to the right is my good pal Al, and then another coworker Jim, and to the far right is my two main bosses Paul and Juan and then Corey is in there too.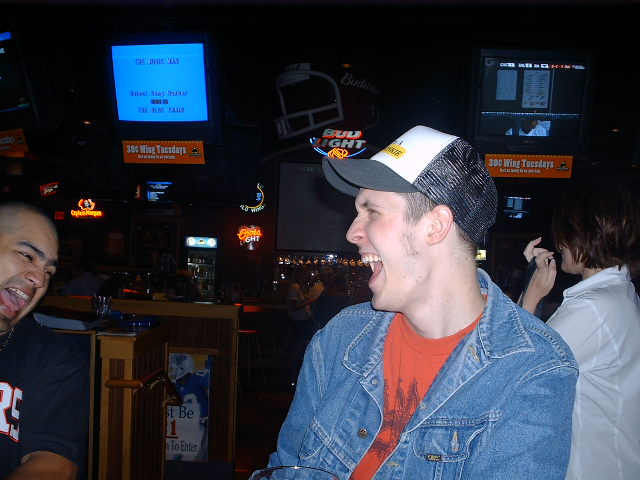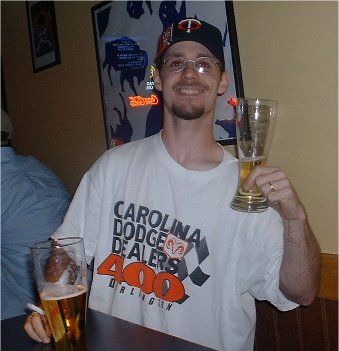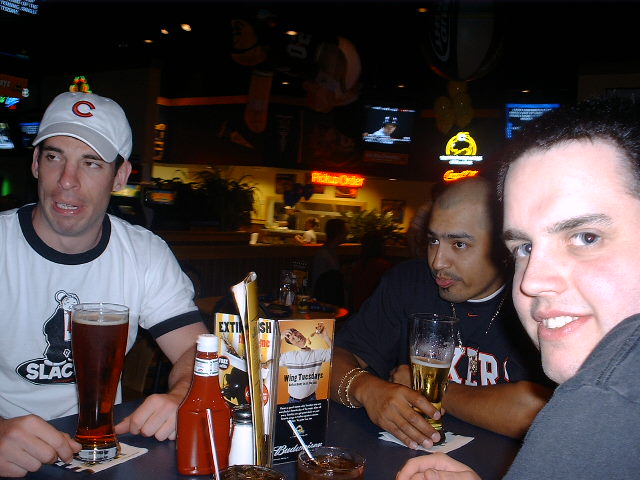 (Pics Taken June 2003)
Pics 45, 46: I created a wrestler for RAW 2 on Xbox, so low and behold here he is. Since Xbox allows custom soundtracks I was able to rip my entrance theme which is Everclear's awesome instrumental cut, 'El Distorto de Melodica.'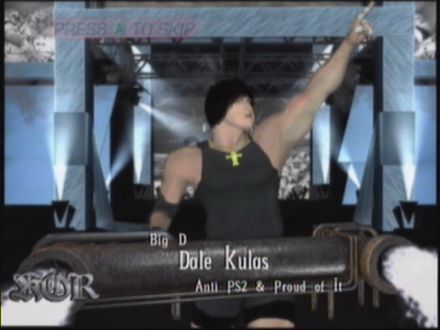 (Pics Taken September 2003)
Pics 47, 48, 49: Here's some more pics of my family. On the left is my sister Jane and her husband Shawn with their kid Adrian on their head at a football game we were at last fall, and on the right is my sister Sherrie with her husband Rob and their kids Nicole and Briana from last Christman. Finally on the right is my sister Ann and her boyfriend Austin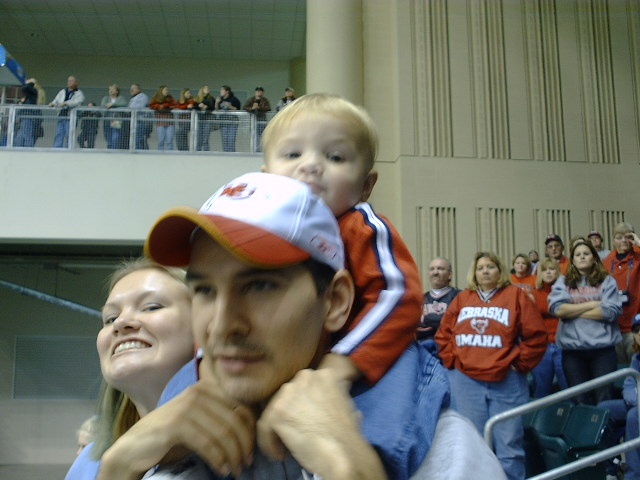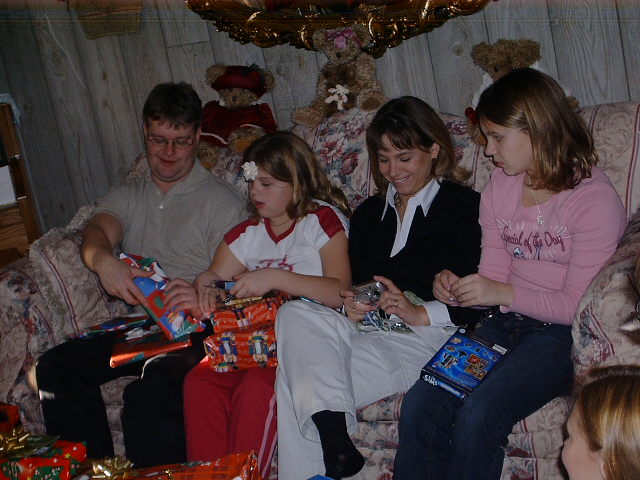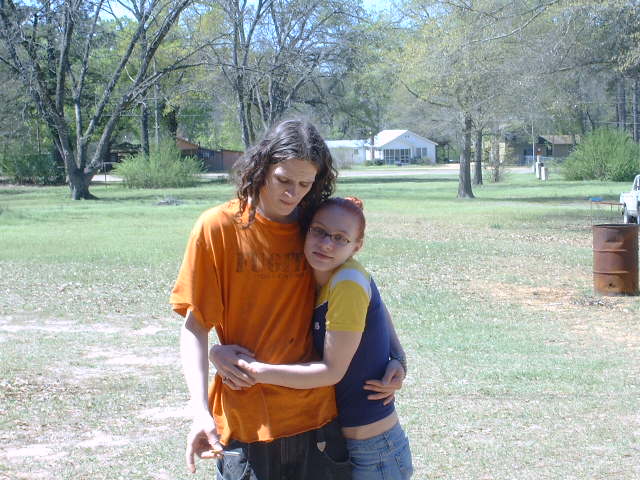 (Pics Taken November 2003, December 2003, & March 2004, respectively)
Pics 50, 51, 52: Some more pics of me and my friends here. On the left we got me, Rich and Rocket on Rich's last night in town before he shipped off to the Navy for 4 years in 2/2004, then there's a pic of Jarod, Kevin, and Rocket, and on the far right is another good friend of mine AJ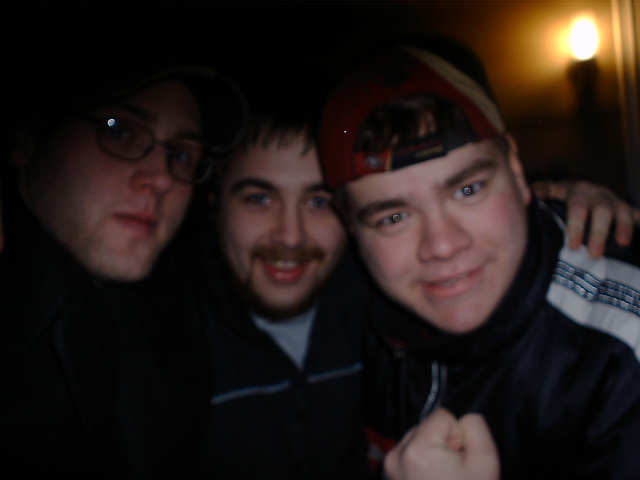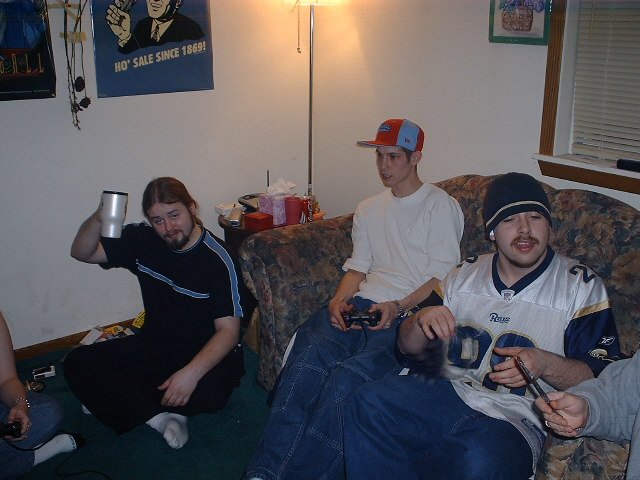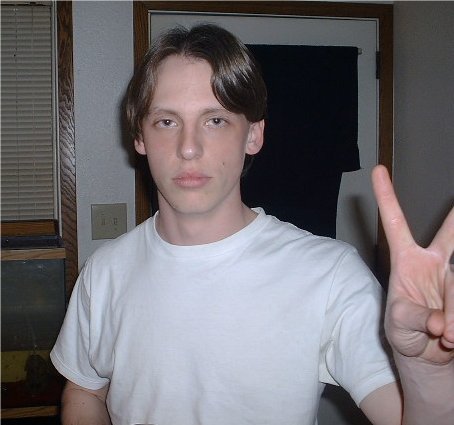 (Pics Taken February 2004 & April 2004)
Sign Guestbook | View Guestbook
Back to DX/nWo Wrestling | Back to My Videogame Reviews Page