nWo Pics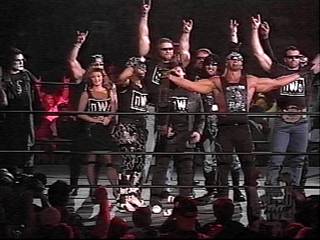 The first version of the nWo is reborn in the WWF in February 2002 of of Hall, Nash, and Hulk Hogan.
The New nWo of Outsiders, Jarrett, and Hart(December, 1999)
The New nWo Wolfpac of Hogan, Outsiders, Scott Steiner, Luger, and Bagwell (January, 1999)
X-Pac, Nash, and HBK jabbering on a July episode of RAW, the same one where Nash got injured on his first night back
More hijinx of the nWo in the WWF in 2002
The nWo's latest members in May 2002: Ric Flair and The Big Show.
The nWo's latest members in June 2002: The Heartbreak Kid, Shawn Michaels!!!.
Another pic of Shawn Michaels & Kevin Nash celebrating his entrance in the nWo. This was also Shawn's first WWF/WWE live event appearence since late 2000 in the "who ran over Stone Cold" angle.
A pic of the Hulkster campaigning for USA president in late 1998
Simply Ravishing
Hennig & Rick Rude
Big 'ol nWo reunion!
Scott Hall does his Giant impersonation
Hollywood Hogan ripping off his gear
Back to DX/nWo Wrestling