DX History

1997 | 1998 | 1999 | 2000 | 2002 | 2006 | 2007 | 2008 | 2009

| 2010

1997

September 28,1997 Pay-Per-View ONE NIGHT ONLY: Shawn Michaels goes against the British Bulldog in a European Title Match he comes out with Hunter Hearst Helmsley and Chyna. Thus DX is born. (The group wasn't officially billed as "Degeneration-X" until a month later)

September 29,1997 RAW: DX comes down with their new 4th member Rick Rude.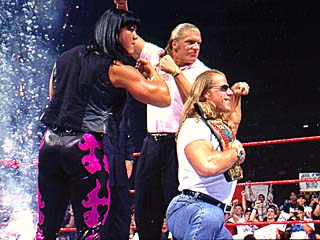 October 5,1997 Pay-Per View IYH:BADD BLOOD: Shawn beats Undertaker in a spectacular match, which was the first ever Hell in a Cell match.
October 6, 1997 RAW: DX show footage of the original "kliq" of Shawn Michaels, HHH, Razor Ramon(Scott Hall),and Diesel(Kevin Nash) embracing in a group hug on a house show in May 1996. The footage was also the last appearances of Hall & Nash in their first WWF stint.
November 7, 1997 Pay-Per-View: SURVIVOR SERIES: Shawn Michaels wins the WWF Title from Bret Hart in the controversial "screw job" ending where Vince McMahon calls for the timekeeper to ring the bell while Bret has Shawn in the shapshooter, even though Bret didn't submit as seen below.

November 17, 1997 RAW: Helmsley gives a pedigree to Slaughter on a briefcase and baths him in toilet paper.This was also was the last appearance of Rick Rude in the WWF. He also showed up on Nitro the very same night.
November 24, 1997 RAW: Shawn redoes his victory scene at Survivor Series against a midget of Bret Hart where he puts the sharpshooter on the Midget. Helmsley puts a WCW sticker on his butt. Jim Neidhart then comes out and threatens to beat up DX then Michaels says some words and gets him to join DX. After Michaels beats Vader in a match that evening. DX betrays, and attacks Neidhart.
December 1,1997 RAW: Helmsley beats Neidhart in a match and sprays "WCW" on his back. He then handcuffs him to the ring ropes. Later, Ken Shamrock and Commissioner Slaughter comes out and helps out Neidhart. This was his last WWF appearance, before appearing on WCW Nitro a month later.
December 8,1997 Pay-Per-View: IYH: Degeneration-X: After HBK loses to Shamrock by DQ. Owen Hart emerges from the crowd and attacks Shawn Michaels.
December 9,1997 RAW: DX plays strip poker and beats up the Headbangers. Owen comes and attacks Shawn again.
December 22,1997 RAW: Shawn and HHH strip. Later Sgt. Slaghter comes down and has Shawn defend his European Title against Helmsley. Shawn laters lays down and lets HHH win the title with no effort.
1998
January 18,1998 Pay-Per-View: Royal Rumble: Shawn beats Undertaker in casket match, and later the casket is lit on fire by Kane.
January 19, 1998 RAW: DX performs the "Suck the Cook" sketch where they have a barbeque.
January 26, 1998 RAW: Helmsley has Goldust defend his European title against Owen Hart. Owen wins and Slaughter gives the victory.
March 3, 1998 RAW: After a confrontation by HBK, boxing star, Mike Tyson joins DX.
March 17, 1998 RAW: Helmsley wins the European title from Owen Hart by refs decision. He had help from Chyna of course.
March 29, 1998 Pay-Per-View: Wrestlemania 14: Shawn loses World title to Steve Austin after Tyson betrays DX and gives the 3 count for "Stone Cold" Steve Austin.
March 30, 1998 RAW: HHH announces that Shawn has dropped the ball and left. And says he is the new leader of DX, and reintroduces Sean Waltman(1-2-3 Kid,Syxx)to the WWF, who immediately joins DX. Later on in the show, they help Road Dog and Billy Gunn win the Tag Titles from Cactus Jack & Chainsaw Charlie (aKa, Terry Funk)and they also join DX.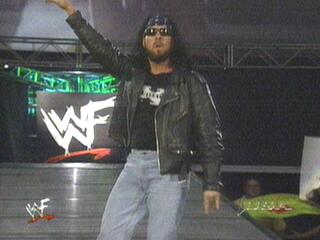 April 6, 1998 RAW: DX pissed on DOA's Titan MotorCycles then beat them in a 3-on-3 match later on that night. They nailed them with chairs later on until Legion of Doom made the save.
April 13, 1998 RAW: DX beats up DOA again during a special chain match. DOA member, Chainz goes out in a hospital stretcher. After they got done beating up DOA they betrayed allies, Los Boriquas, and attacked them as well.
May 5, 1998 RAW: Special 4-on-4 tag match with DX against DOA and LOD. Everybody thought X-Pac was gonna wrestle but it was Chyna who replaced him. The match was really great until DOA and LOD decided to attack each other.
May 12, 1998: DX invades CNN Headquarters in Atlanta. And that night on RAW Owen bites part of Helmsley's ear.
May 25, 1998: Continuing there "DX Invasion of WCW" skits, HHH flies in a blue angel airplane over the arena Nitro was being held and sprays "WCW Sucks, DX says SUCK IT."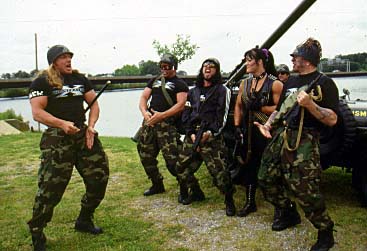 June 1, 1998 RAW: After losing in a 6-man elimination match by DQ to the Nation because of Ken Shamrock, Helmsley attacks him.
June 8, 1998 RAW: Special footage of DX in New York City promoting Summerslam coming to Madison Square Gardenis shown. They're in bars and music shops and two ladies they met flashed them.
June 28 ,1998 PPV; King of the Ring: Chyna gives a DDT to Owen Hart. Helping X-Pac beat Owen Hart.
June 29, 1998 RAW: "The Rock" Rocky Maivia nailed Helmsley with a belt to make him get pinned by Shamrock in a triple threat match between Helmsley, Owen Hart, and Ken Shamrock.
July 6, 1998 RAW: DX dresses up and impersonates the Nation. HHH is The Rock, X-Pac is Marc Henry,Road Dog is D-Lo, Billy Gunn is Kama, and Jason the Sensation is Owen. They joked around what the Rocked cooked at the bathroom, and use other hilarious taglines.
July 13, 1998 RAW: Shawn Michaels made his redebut(last time we saw him was WM 14)as a color commentator and didn't mention anything about being a DX member. Also the New Age Outlaws lost the tag titles to Kane & Mankind. They got a rematch later that night but it ended up in a no contest after a brawl happened in the ring.
JULY 20, 1998 RAW Tapings: Hunter Hearst Helmsley lost the European belt to D-lo Brown. Helmsley also asked a lady to flash everyone. She did it. It was also on the titantron.
July 26, 1998 PPV: IYH: "Fully Loaded": Helmsley just about wins the IC title from Rocky Maivia in a 2 out of 3 falls match but the time ran out.
July 27, 1998 RAW: In a triple threat IC title match Helmsley and X-Pac fight each other while the Rock runs out and gets counted out.
August 5, 1998 RAW: In an IC title shot match for Summerslam Helmsley pedigrees his way to victory over X-Pac after Chyna assisted him.
August 9, 1998 Sunday Night Heat: DX shows the crowd their butt, then some women shows DX their chests.
August 09, 1998 Pacific Blue: Hemlsey plays a minor role in this new episode on the USA Network TV series.
August 10, 1998 RAW: DX makes it looks like their gonna split up but instead Chyna shows the crowd her butt.
August 17, 1998 RAW: In a Street Fight Match where its HHH, X-Pac, and Outlaws vs. Rocky, D-Lo, and Marc Henry; Jarrett and Southern Justice double team on DX and Helmsley gets busted open.
August 30, 1998 PPV: Summerslam: Helmsley beats Rocky Maivia in a ladder match to win the Intercontinental Title.
September 21, 1998 RAW: Billy Gunn teamed with Steve Austin and lost to Undertaker & Kane. X-Pac won the European title from D-Lo Brown.
September 29, 1998 RAW: Billy Gunn is pissed at Road Dog for costing him a match.
October 5, 1998 RAW: X-Pac lost the European Title back to D-Lo Brown. Marc Henry files Sexual Harassment lawsuit on Chyna. Road Dogg beats Marc Henry with help from X-Pac and Chyna.
October 9, 1998: Hunter Hearst Helmsley was stripped of the IC title for not defending the title within 30 days due to his knee injury.
October 12, 1998 RAW: In a One-Night Intercontinental Tournament, X-Pac made it to the finals but lost to Ken Shamrock.
October 18 1998 PPV: IYH: Judgement Day: X-Pac won the European title back from D-Lo, and the Headbangers beat the Outlaws by DQ after Road Dog nailed Thrasher with a boom box after Billy couldn't make a tag.
October 19, 1998 RAW: Chyna got arrested as X-Pac defeated Shamrock in a non-title match.
October 26, 1998 RAW: Steven Regal attacks X-Pac during his match with Steve Blackman
November 9, 1998 RAW: Kane throws a fireball which is suppose to hit the Undertaker, but accidentally nails X-Pac.
November 15, 1998 PPV: Survivor Series: Helmsley was still injured so he couldn't face his opponent that night(Rocky Maivia). Big Boss Man is the substitution.
November 16, 1998 RAW: Chyna makes her return and Marc Henry says some love poem to her which disgusts Chyna and makes her leave.
November 23, 1998 RAW: chyna says she'll go out with Marc Henry to settle the lawsuit. Shawn Michaels makes his return as the new WWF commissioner and orders new WWF World Champ, The Rock, to face X-Pac. In the match Shawn nails X-Pac with a chair and joins the Corporation faction which at this date consisted of: Sgt Slaughter, Gerald Brisco, Pat Patterson, Ken Shamrock, Big Boss Man, Shane McMhan, and Vince McMhan. At the end of the show Shawn and the McMhans do the DX Crotch chop.
November 30, 1998 RAW: Marc Henry takes Chyna out on a date which Chyna seems to enjoy. McMhan's cronies help out the Outlaws in their match. Hunter Hearst Helmsley made his return by helping X-Pac retain his European title in a match against Ken Shamrock.
December 7, 1998 RAW: Outlaws do a double cross and leaves the "McMhan Corporatiom"
December 14, 1998 RAW: With help from Shawn Michaels, Ken Shamrock & Big Boss Man win the tag titles from the Outlaws. Montley Crew's bodyguard, Test, helps Rocky beat Helmsley.
December 21, 1998 RAW: All DX members fight Corporation members where Billy Gunn beat Shamrock and we thought he won the IC title, but Shawn Michaels said it wasn't a title match, but Road Dogg convinced the Big Boss Man to put the Hardcore title on the line and won it from him. Helmsley & X-Pac were about to beat Rocky & Test until Kane came in and gave chokeslams to all DX members.
December 28, 1998 RAW: Kane gave Billy Gunn two chokeslams. Shamrock destroyed Helmsley's knee. Chyna tells Terri Runnels & Jacquelyn to stay way from Mark Henry. In a hardcore title match, Road Dogg beats Al Snow by giving him a piledriver on a wood pallet.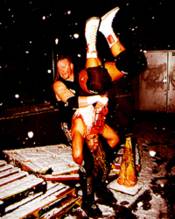 1999
January 3, 1999 Heat: Chyna and her mysterious friend distract Marc Henry and costs him a match against Helmsley.
January 4, 1999 RAW: Shawn Michaels rejoins DX. Later on Shawn gets brutally attacked by team corporate and Shawn ends up getting escorted out by an ambulance. Chyna introduces her friend Sammy to Marc Henry. DX celebrates Mankind winning the WWF World Title from Rocky maivia.
January 11, 1999 RAW: Chyna and Sammy helps Mark Henry after Terri gives him a groin smash. Their was a 10-Man Corporate/DX Royal Rumble that featured(in order of entrance): Ken Shamrock, Billy Gunn, Big Boss Man, Test, X-pac, Jesse James, Kane, Hunter Hearst Helmsley, Vince McMhan, and Chyna. Chyna won it!
January 18, 1999 RAW: Shamrock beats up Billy Gunn. Chyna gives Marc Henry a groin smash.
January 25, 1999 RAW: Kane chokeslams X-Pac after X-Pac offered Kane a spot in DX, then Shane McMhan gave X-Pac the Bronco Buster. Chyna gives Helmsley a low blow and leaves DX to join team corporate.
February 1, 1999 RAW: Chyna and Shane McMhan attack X-Pac in a cage. Road Dogg nails Al Snow with a chair after teaming with him.
February 15, 1999 RAW: With help from Chyna, Shane McMhan won the European title from X-Pac in a tag match with Helmsley/X-Pac vs. Kane/Shane with the stipulation being if X-Pac was pinned, the person who pinned him would become the new champ.
February 22, 1999 RAW: X-Pac beat Chyna after Helmsley gave her a pedigree to get a European Title Shot Rematch against Shane McMhan at Wrestlemania 15.
March 1, 1999 RAW: Billy Gunn jumps Val Venis after his match. Billy Gunn was suppose to wrestle against him, but couldn't due to his doctor saying he might catch pnemonia. Road Dogg returned after his injury, losing to Rocky Maivia. After the match he got in a a back lot brawl with Bob Holly and Al Snow.
March 8, 1999 RAW: Chyna holds Helmsley and Kane uses a device that fires a fireball, but Helmsley ducked and it nailed Chyna instead.
March 15, 1999 RAW: Road Dogg won the Intercontinental Title from Val Venis. Also Billy Gun won the Hardcore title from Bob Holly. Helmsley brawled with Kane later to find out it was the Undertaker under the mask.
March 22, RAW: Shane's buddies jump X-Pac in the back in a special street fight match. Hunter Hearst Helmsley uses a big fireball on Kane and beats on him.
March 28, PPV: Wrestlemania 15: In the Hunter Hearst Helmsley vs. Kane match Chyna wacked Kane with a chair and celebrated with Helmsley making it look like Chyna rejoined DX. Later during the Shane McMhan vs. X-Pac match, Helmsley & Chyna came down to seemingly help X-Pac(who was getting beat up by Test throughout the match). X-Pac nailed the X-Factor, but Chyna distracted the ref and Helmsley nailed the Pedigree on X-Pac allowing Shane to win. Test, Chyna, & Helmsley beat up X-Pac until the Outlaws run in, but they beat them up too. So Helmsley & Chyna left DX and joined the Corporation(leaving just X-Pac and the Outlaws in DX).
March 29, 1999 RAW: X-Pac says DX will continue on with just himself and the New Age Outlaws. With help from the Blue Meanie, Road Dog loses the IC title to Goldust.
April 5, 1999 RAW: X-Pac and Kane win the tag titles from Owen Hart & Jeff Jarrett.
April 12, 1999 RAW: During Billy Gunn's match with Val Venis, Jeff Jarrett & Owen Hart run in and attack Billy until Road Dogg helps out.
April 25, 1999 PPV: In Your House: Backlash: New Age Outlaws beat Owen Hart and Jeff Jarrett to get a tag team title shot against Kane & X-Pac at the "Smackdown" event on UPN Network on April 29.
April 26, 1999 RAW: X-Pac has a lot of trouble cooperating with Kane and because of some mis-communications, Kane chokeslams X-Pac.
April 29, 1999 Smackdown: X-Pac pins Billy Gunn in his and Kane's tag title defense due to Road Dog's interference. Billy's mad at X-Pac and attacks him after the match.
May 2, 1999 Heat: Billy Gunn apologizes to X-Pac about his attack, but once X-Pac turns his back, Billy Gunn jumps X-Pac and attacks him, thus leaving DX.
May 3, 1999 RAW: Billy Gunn fights X-Pac, but the match ends up in a no contest due to interference from Kane and Road Dog.
May 9, 1999 Heat: Billy Gunn attacks Road Dog and X-Pac during their singles matches, but ends up getting chased away by Kane during each attempt.
May 31, 1999 RAW: With help from Shane McMahon, X-Pac and Kane lose the tag titles to the Acolytes.
June 7, 1999 RAW: Road Dogg helps the Godfather beat Billy Gunn. X-Pac and Kane got to beat up Shane McMahon in a handicap match.
June 20, 1999 Heat: In a 4 person elimination match Chyna wacked X-Pac with a chair, then wacked Hardcore Holly with a chair and Holly fell on X-Pac to get the pin, then Chyna covered Holly to win the match.
June 21, 1999 RAW: In a triple tag match(X-Pac, Road Dogg, & Kane vs. Billy Gunn & Acolytes) X-Pac manages somehow to make the Acolytes put their tag belts on the line, in the match it was Billy Gunn who got the pin on X-Pac, and Billy walked out with a tag belt.
July 25, 1999 PPV: Fully Loaded: X-Pac & Road Dogg defeated Billy Gunn & Chyna when Road Dogg pinned Billy Gunn via Pump Handle Slam. The Stipulation was the winner gets the rights to the DX name.
August 9, 1999 RAW: X-Pac & Kane won tag titles back from the Acolytes. After the match X-Pac got Kane to say "suck it." After that, Undertaker & BigShow ran in and attacked X-pac, Kane, & Road Dogg.
August 22, 1999 PPV: Summerslam: Kane & X-Pac lost the tag titles to the Big Show and Undertaker. Road Dogg got in an argument with Chris Jericho.
August 23, 1999 RAW: Road Dogg got in a backstage brawl with Chris Jericho.
August 26, 1999 Smackdown Tapings: Chris Jericho wrestles Road Dogg and puts him out after Jericho locks on the Lion Tamer on a table.
September 23, 1999 Smackdown Tapings: Road Dogg made his return and him and Billy Gunn reunited, winning the tag titles from The Rock and Mankind. Undertaker, Big Show, Viscera, and Mideon also laid out X-Pac.
October 12, 1999 Smackdown Tapings: Outlaws lose the tag titles to the Rock and Mankind after Crash and Hardcore Holly interfered
October 25, 1999 RAW: DX reunties during a match where the Outlaws faced Steve Austin & Mankind, where X-Pac came in and gave a spinning heel kick to Mankind and Triple H gave the Pedigree to Austin.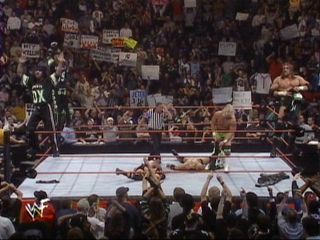 October 26, 1999 Smackdown Tapings: X-Pac betrays Kane and gives him a X-Factor during there match with the Dudley Boyz. Billy Gunn ends up getting caught in some sort of bear trap. Concrete Wall falls on X-Pac. At the end a net falls on DX, and Steve Austin, The Rock, and Kane beats up DX.
November 1, 1999 RAW: Shane McMahon faces Helmsley for the WWF belt. Shane's dad Vince, tries to nail Helmsley with the World Belt, but nails Shane instead, a Pedigree later, Helmsley retains the World Belt.
November 2, 1999 Smackdown Tapings: Helmsley, X-Pac, Road Dogg, and Billy Gunn face Shane McMahon, Kane, Steve Austin, and The Rock in a 8-Man Survivor Series rules elimination match, it boils down to just Helmsley and Austin at the end and Vince tried to nail Helmsley with the world belt again, but Helmsley ducked and nailed Austin.
November 8, 1999 RAW: New Age Outlaws win the tag titles from Mankind & Al Snow. In the main event Helmsley faced Test with Shane McMahon as guest ref and Vince McMahon as guest timekeeper, Test was about to finish off Hlemsley until on the titantron we saw DX torturing Stephanie McMahon, and so Test, Vince, and Shane run back leaving Helmsley to get the win by countout.
November 14, 1999 PPV: Survivor Series: Helmsley distracted Steve Austin in the Parking Lot, and Austin ending up getting ran over by a car. The main event for the night was suppose to be Helmsley vs. Austin vs. Rock in a triple threat match, but Big Show replaced Austin. In the match DX ran in and caused a major distraction, Vince knocked out Helmsley with the World Belt and Big Show covered Helmsley and Vince counted the 1-2-3 for the victory and announced Big Show as new champ.
November 16, 1999 Smackdown Tapings: DX assaulted Vince's family, by lighting there locker room on fire, and later on Helmsley challenged Vince McMahon to a match at Armageddon.
November 21, 1999 RAW: Vince ran into DX's limo with his car several times, later going to jail, in there he scheduled Helmsley vs. Acolytes handicap match where if any member of DX interferes, they'll get a 30-day suspension, Vince got out of jail with bail later on, and during the match Vince whacked Helmsley with a chair off the entrance ramp.
November 22, 1999 Smackdown Tapings: DX lets bums into a building and tease them of a thanksgiving dinner before kicking them out of the building.
November 29, 1999 RAW: Throughout the show they showed Stephanie McMahon's pre-night wedding party at Las Vegas. In last segment they showed the bartender giving Stephanie a drink "for the road." At the end of the show during the wedding of Stephanie McMahon and Test, Helmsley interrupted with previously taped footage from the previous night where he drove a knocked out Stephanie to a wedding chapel and married her. Everyone at the reception is crying and they chase off Helmsley.
December 7, 1999 Smackdown Tapings: Helmsley tosses Shane McMahon off the top of the entrance ramp after signing the papers so him and Vince McMahon will face off.
December 12, 1999 PPV: Armageddon: Helmsley beats Vince McMahon in there no holds barred match, after Helmsley nails Vince with a sledgehammer. Stephanie McMahon then betrays the rest of her family and embraces with Helmsley. Letting everyone know she was in on the act the whole time.
December 20, 1999 RAW: The Outlaws beat up Mankind in the Broiler Room, disguised as Santas. The Big Show beats Kane, with a stipulation where if Big Show win's, Kane's girlfriend, Tori gets to spend the weekend with X-Pac
December 21, 1999 Smackdown Tapings: Stephanie appeared to be having troubles with Helmsley, and said Helmsley will be locked above in a cage during the Big Show/Mankind world title match. Helmsley ended up having the key to the lock the whole time and DX beat the crap out of Big Show and Mankind after the match.
December 27, 1999 RAW: Triple H signed himself up for a world title match against Big Show, Helmsley was on the verge of winning until a recently fired Mankind, costed him the match.
December 28, 1999 Smackdown Tapings: DX beats up Big Show in a 4-on-1 Handicap match
2000
January 3, 2000 RAW: Helmsley wins the world belt for the 3rd time with help from X-Pac to beat the Big Show. The Rock faced The New Age Outlaws and X-Pac in a 3-on-1 handicap NO DQ match, where if the Rock loses, he's fired, The Rock won after a recently fired Mick Foley whacked DX with chair shots.
January 4, 2000 Smackdown Tapings: Helmsley has a lottery drawing to go against any superstar in the WWF. At first he draws the late Andre the Giant, then draws the Fabulous Moolah, then he has Howard Finkel draw a name, and he draws Rikishi Phatu. In there match later on in the night, Rikishi dominates most of the match, and the Outlaws and X-Pac look on from the dressing room laughing at Hunter getting beat up and they didn't help him at all for his match. Hunter gets himself DQ'd after he uses the his Championship belt on Rikishi. After the match Rikishi dances around with Too Cool, while Hunter and Stephanie keep on saying "It's not over."
January 10, 2000 RAW: Billy Gunn and Road Dogg got into arguments, X-Pac got in arguments with Helmsley and had to face him later on in a non-title match, where Stepahnie McMahon assisted Helmsley with the win. Later on DX faced The Acolytes, and The Rock 'n Sock Connection. All of DX abandoned Helmsley, and the Acolytes and The Rock chased them off, leaving just Mankind and Helmsley. Helmsley got the pin and busted Mankind wide open, after a pedigree on the announcer's table. Later Mankind ripped off his mask and acted all Hardcore, bringing back shades of Cactus Jack, as he beat the crap out of Helmsley.
January 11, 2000 Smackdown Tapings: The Outlaws patch thing up as they beat Faarooq and Bradshaw in 2 separate 2-on-1 handicap matches, and Helmsley & X-Pac patch things up too, as they beat they Big Show & The Rock in tag team action.
January 17, 2000 RAW: DX beats up Acolytes, Big Show & Rock are suppose to be partners to face the Outlaws, but they end up beating each other up.
January 24, 2000 RAW: Helmsley & Big Show faces Rock and mystery partner, it's Rikishi Phatu, Outlaws help Helmsley & Big Sow with the beating, until Cactus Jack runs out and clears house with a 2x4!
January 25, 2000 Smackdown Tapings: Tori joined up with X-Pac, being his new valet.
January 31, 2000 RAW: X-Pac beat Chris Jericho in a non title match with help from Tori, Triple H gets decked out at the end of the show by Perry Saturn, Chris Benoit, Eddy Gurrerro, and Dean Malenko.
February 1, 2000 Smackdown Tapings: X-Pac faces Malenko, New Age Outlaws faces Eddy Gurrero & Perry Saturn, and Helmsley faces Benoit. If thet get 2 wins they'll get jobs in the WWF, but they lost all 3 matches, plus Gurrero injured his elbow during his match.
Febraury 7, 2000 RAW: Benoit, Malenko, Saturn, and Gurrero turned on Cactus Jack, and made an alliance with DX (but didn't officially join the group). In the main event it was suppose to be Helmsley, X-Pac, Malenko, Saturn, and Benoit against Cactus Jacka and any 4 partners he can find, which turned out to be The Rock, Rakishi, and Too Cool. DX won after Helmsley pinned Grandmaster Sexay after a Pedigree. After the match Kane returned with Paul Bearer and destroyed DX.
Febraury 8, 2000 Smackdown Tapings: X-Pac and Helmsley took on Kane in a handicap match, Kane won via DQ, after Helmsley knocked him out with a chair. Kane then chokeslameed Helmsley, X-Pac, and gave a tombstone to Tori.
February 14, 2000 RAW: Kane fights Helmsley & X-Pac in a No DQ Handicap match, where if Kane wins he gets to face X-Pac in a no holds barred handicap match at No Way out, Kane ends up winning the match with help from the Rock. Billy Gunn loses to Scotty 2 Hotty(Scott Taylor) after some help from Grandmaster Sexay(Brian Christopher).
February 15, 2000 Smackdown Tapings: DX unveils the DX Express, there own personal traveling bus, and they lock Kane & Paul Bearer in it and drive them off in it.
February 21, 2000 RAW: During a 4-on-4 match between Edge, Christian, and The Hardyz against the Outlaws and the Dudleyz, The Hardyz, Edge & Christian won when a Dudley nailed Billy Gunn with a steel chair. Kane uses a pole to break the window of the DX express.
February 22, 2000 Smackdown Tapings: DX attacks Too Cool & Rikishi, and looks like they broke Rakishi's ankle, Helmsley & Stephanie drive off in the DX Express, with Cactus Jack inside a cage, chained to the bus.
Febraury 28, 2000 RAW: DX beats up Billy Gunn and kicks him out of DX after he didn't want X-Pac taking his spot for the Road Dogg/X-Pac vs. Dudleyz tag titles match.
March 6, 2000 RAW: Helmsley sets up The Rock vs. Chris Benoit in a steel cage, and the Rock ends up winning, but HHH and Big Show team up on the Rock after the match, and Helmsley accidentally nails Big Show with a chair.
March 13, 2000 RAW Tapings: Helmsley makes Big Show vs. The Rock where if The Rock wins he gets to be in the main event at Wrestlemania and if The Rock loses, he must retire, well during the match, where Shane McMahon is the ref, Vince McMahon comes out and whacks Shane and Big Show, and Vince becomes ref, and awards the Rock the match so it's gonna be The Rock vs. Helmsley at Wrestlemania 16.
March 14, 2000 Smackdown Tapings: X-Pac was suppose to fight Kane, but he gets locked in the back of a truck so he has to fight The Rock instead, where he loses at the end.
March 20, 2000 RAW: Helmsley defends his belt successfully against Big Show & The Rock, but after the match, Linda McMahon announces a Fatal 4-Way Elimination match between Helmsley, Big Show, The Rock, & Cactus Jack for the main event at Wrestlemania 16.
March 27, 2000 RAW: At the beginning of the show HHH beats up the Rock and Mick Foley by nailing Foley with the belt and giving the Rock the Pedigree, later Shane & Big Show face Rock & Vince with HHH and Foley as the refs, Foley is about to make the winning 3-Count, but Helmsley elbows drop him, and they end up fighting, but Rock & Vince McMahon end up getting the victory after The Rock gave a Rock Bottom to Shane and a fast count from Foley. Also in this episode Kane tries to chokeslam Tori, but X-Pac and Road Dogg jump him from behind, and throw him out of the ring, through a table.
March 28, 2000 Smackdown Tapings: DX helps Stephanie McMahon-Helmsley win the Womens belt from Jacquelyn.
April 2, 2000 PPV: Wrestlemania 16: Road Dogg & X-Pac lose to Kane & Rakishi, afterwords Too Cool & Rikishi dances, then Pete Rose comes out and gets his butt whooped for the 3rd straight Wrestlemania. HHH successfully defends his belt in the 4-way title match, with a little help from Vince McMahon, who for about the 5th or 6th time, turned to heel and betrayed the Rock by nailing him with the belt so Helmsley can pick up the win.
April 3, 2000 RAW: Shane McMahon faces The Rock, but Helmsley interferes in the match causing the DQ, and The Rock ends up getting the Rock Bottom on HHH, and makes the referee count the pin, and he celeberates with the belt, even though the match wasn't official and he didn't even win the belt any ways. April 10, 2000 RAW: HHH defends his WWF Title against Taka Michinkoku and barely comes off with a victory after some interferences from The Acolytes, and Sho Funaki, later The Rock faces Bull Buchanan & Big Boss Man in a handicap cage match, where he must get a victory in order to get a title shot against Helmsley, Rock wins, but then Helmsley beats him up to bloody pulp until the Acolytes run out to make the save.
April 11, 2000 Smackdown Tapings: Chris Jericho says some rather crude comments to Stephanie McMahon and Tori, and books Jericho in a handicap match against X-Pac and Road Dogg, and after a distraction from Tori, DX picks up the victory. In the main event HHH with Boss Man and Bull Buchanan, took on The Rock and the Acolytes, after a while of brawling, the Acolytes and Boss Man & Bull fought to the back, and the Rock and Helmsley were left, but HHH retreated as The Rock gave the Rock Bottom to Shane McMahon through the announcers table.
April 17, 2000 RAW: Chris Jericho beats HHH for the World Title, but Helmsley made the ref (Earl Hebner) reverse the decision of the match, and then fired him and gave him the pedigree. Later Linda McMahon announced that Steve Austin will be in the corner of the Rock at Backlash for his match against HHH, this makes Helmsley furious and's about to give the Pedigree to Linda, but Shane clotheslines him so he won't do it, then they go at it, and finally Stephanie talks some sense into him. X-Pac & Road Dogg attacked Edge & Christian.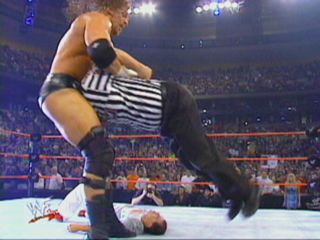 April 18, 2000 Smackdown Tapings: ECW Champ, Tazz challenges HHH in a non-title match, so he can prove how good ECW is, they fight, but ECW star, Tommy Dreamer accidentally nails Tazz with a chair while the ref was down, and Helmsley wound up getting the pin.
April 24, 2000 RAW: HHH says he'll face Jericho and The Rock in a handicap match alone, but later on reveals Chris Benoit to be his partner, and they end up winning the match.
April 25, 2000 Smackdown Tapings: Steve Austin returns and uses a crane to demolish the DX Express bus.
April 30, 2000 PPV: Backlash: Right when it looked like HHH was about to beat the Rock, Steve Austin comes out and nails special refs Brisco, and Patterson with a chair, he also nails Vince and Shane McMahon with a chair and Helmsley too. Linda McMahon comes out with Earl Hebner, and Rock gives the People's Elbow to Helmsley and wins the belt to end Helmsley's 4 month reign as champ.
May 1, 2000 RAW: Shane faces Rock in a cage for the title with Patterson as a ref, and even after all the interference from Helmsley, Brisco, Patterson, and the other McMahons, The Rock still managed to win after Hebner slammed the cage door on HHH.
May 15, 2000 RAW: The Rock and HHH are booked in a 60-minute iron man match, the first one in over four years in the WWF(the last one was Bret hart vs. Shawn Michaels at WM 12 in 1996). Shawn Michaels comes out for the first time since August '99 and resigns as WWF Commissioner, and announces himself as the new official WWF Spokesperson, and is made the referee for the Iron Man match. Later on, The Rock faces Chris Benoit in a non title submission match, Benoit locks on the Crippler Crossface and McMahon orders the timekeeper to ring the bell and makes the announcer announce Benoit the champ.
May 21, 2000 PPV: Judgement Day: HHH wins the title back from the Rock in the Iron Man match. The thing was tied with 5 falls apiece, until about with a minute or 2 left, The Undertaker came back for the first time since September '99 and Tombstoned Helmsley causing a DQ fall for Hunter right when time expired to give him the most falls with 6 and was declared the new champ.
May 22, 2000 RAW: The Rock starts the show off by beating up Vince McMahon, later on getting Road Dogg & X-Pac, then Shane McMahon. At the end of the show him and Triple H go at it, and he ends up giving Helmsley the Rock Bottom through the announcers table.
May 29, 2000 RAW: Someone mysteriously jumps Vince McMahon, Road Dogg, and Pat Patterson. Then Vince makes Undertaker vs. The Rock in a lumberjack match, but They just end up beating the lumberjacks, but they're too much to handle until Kane comes in and clears house and chokeslams HHH and stands over him raising the World Title over his head.
June 5, 2000 RAW: A triple threat match is held that night between Kane, Undertaker, and The Rock to determine the #1 contender for the WWF Title and the winner will have a title shot tonight. The Rock wins and fights Triple H, but loses to Helmsley for umpteenth time after some underhanded tactics by HHH. HHH also makes Stephanie McMahon defend her womens title this Thursday at Smackdown.
June 12, 2000 RAW: Linda McMahon returns and makes Stephanie defend her Women's title against Lita, which Stephanie won due to interference by Kurt Angle, and makes Helmsley defend his World belt against a mystery partner, which turns out to be Jericho, and HHH wins that match after interference from Stephanie. Also X-Pac defeated Dean Malenko in the Qualifying/First Round of the King of the Ring tournament. Later Helmsley tells Bull Buchanan the Undertaker didn't want to fight him, which makes Bull mad and he steals the Taker's motorcycle. Triple H unmasks Kane and takes a picture of his face and says he'll reveal the photo unless Kane fights The Rock, during their match GTV returns and we see the stooges discussing how the photo didn't develop. This makes the Kane, Rock, and the Undertaker fight against DX.
June 13, 2000 -July 9, 2000: Was gone on vacation, so I'll sum up the DX stuff in a nutshell. Vince McMahon made Triple H defend his World Title in a triple tag match at KotR where it was HHH, Shane and Vince McMahon, against The Rock, Kane, and Undertaker, where The Rock pinned Vince to win the belt. This pissed off Triple H a lot and he developed a lot of hatred towards hid 'father-in-law'. Meanwhile X-Pac and Road Dogg were in a feud with the Dudleyz where they defeated them at the KotR in a table dumpster match, afterwards Tori got powerbombed through a table. Chris Jericho also stirs trouble for DX as he causes Triple H to loose to the famous jobber, The Brooklyn Brawler
July 10, 2000 RAW: Triple H makes Road Dogg face Jericho and says if RD loses, he's out of DX, he loses and HHH is really pissed. Later, Helmsley says he wants to fight X\_Pac, during their match, Jericho comes out to seem to help X-Pac, but instead X-Pac, Road Dogg, and HHH all attack Jericho.
July 17, 2000 RAW: Triple H beats the crap out of Jericho with a sledge hammer. Commissioner Foley makes a Last Man Standing match between Jericho and Helmsley at Fully Loaded.
July 18, 2000 Smackdown Taping: Helmsley makes the Rock fall into a trap so which turns an ordinary autograph signing into a sneak attack by Benoit. In the match of the night it's HHH/Benoit against Rock/Jericho, and even the Rock gets a DQ loss for decking a ref, Both Rock and Jericho beat the crap out of HHH and Benoit until security breaks it up.
July 24, 2000 RAW: X-Pac did commentary during Road Dogg's Hardcore Title match and said he wouldn't interfere because he said him and Road Dogg are having a contest to prove who's the better Singles wrestler. After Blackman defeated Road Dogg with no interference at all, X-Pac said he'd face Blackman on Smackdown! Stephanie told HHH that Foley made a match where if Benoit or HHH interfere they'd be fired. On a desk in their room Stephanie bought Helmsley some flowers with a card, but HHH didn't know they're from Stephanie and he thought he was being set up, so he threw them against the wall in anger. Later Jericho challenged Hunter to a rematch(hunter won the last mad standing match from yesterday) and said that his match yesterday was his greatest ever, but Helmsley said even though Jericho put up a helluva fight, he proved that Jericho is nowhere near his league so he won't get a rematch, and replying to that, Jericho ran back to beat up Helmsley.
July 25, 2000 Smackdown Tapings: X-Pac lost to Blackman, as Road Dogg did commentary, after the match they both laid a beating on the Leathal Weapon. Helmsley was suppose to team with Trish Stratus against Lita and Jericho, and as a pre-match warm up, HHH was showing Stratus some wrestling holds, while in a questionable position, Stephanie walks in and walks out in disgust, a little later, Triple H walks out really mad and tells the Road Dogg on his way out, "To hell with the match, To hell with my life, and To Hell with my wife!"
July 31, 2000 RAW: Road Dogg & X-Pac beat Blackman & Snow in a hardcore tag team match. Triple H and Stephanie makes up, but Foley pits them in a match against Lita and The Rock tonight. Later on while Helmsley is showing Steph some moves, Stephanie gets offended and walks off and say the same stuff to HHH that Hunter said to Road Dogg last Smackdown. So HHH is teamed up with Trish, and they lose after Lita pins Trish, HHH is standing above her then Rock nails Helmsley with a chair and Hunter fall on top of Trish.
August 7, 2000 RAW: Triple H and Stephanie make up again, this time for good. X-Pac's about to be beaten by Rikishi, but Road Dogg comes out to help. Helmsley, Angle, and Jericho go at it in a triple threat match for the #1 contender at Summerslam where both Angle and HHH pin Jericho simultaneously after a double suplex, so both Kurt and Hunter are both named #1 contenders.
August 8, 2000 Smackdown Tapings: X-Pac faces Rikishi again, but asks Road Dogg for no help. After a good and fair match, X\_Pac barely manages to lose to Rikishi. HHH and Angle are scheduled in a tag match against The Rock and Undertaker. Hunter walks out during the match after Angle accidentally nails Hunter, but Helmsley returns to save Stephanie from getting Rock Bottomed and sacrificed himself to an Undertaker chokeslam.
August 14, 2000 RAW: X-Pac & Road Dogg beat Rikishi in a handicap match with a double pin. Kurt Angle meets Stephanie as she arrives, and give her a kiss on the cheek, as a "friend" HHH sees this on the backstage monitor and gets really mad at Stephanie and yells at her which causes her to leave. A backstage messenger, "Joe" steers trouble again between Kurt Angle and Helmsley and tells them to meet each other in the parking lot where Vince McMahon talks some sense into them.
August 21, 2000 RAW: X\_Pac & Road Dogg face Edge & Christian for the tag titles, but lose after some mistakes, after the match, X-Pac accidentally shoves Road Dogg off the ring apron through a table. Triple H & Kurt Angle beat The Acolytes, but after the match Angle celebrates too long and the Acolytes beat him up a lot which makes Angle wants to leave the arena, but Stephanie encourages him to stay to support her in her Women\'92s title match defense against Lita with The Rock as the ref, where after The Rock gives a Rock Bottom to Stephanie, then a Lita moonsault, Lita becomes the new Women\'92s champion after Stephanie's 5 month reign.
August 22, 2000 Smackdown Tapings: Triple H and Angle team up to face the Dudley Boys, during the match Angle in-adversely knocks Stephanie off the ring apron, then Hunter takes her back to the locker room, then comes back to help Angle, but while he gets a beating from the Dudleys and Hardy Boyz, Kurt Angle disses his partner, goes to the back where Stephanie is and hugs and actually kisses her mouth-to-mouth.
August 27, 2000 PPV: Summerslam: X-Pac defeats Road Dogg in singles action, and tries to make up for all their fighting after his victory with a hand shake offer, but instead Road Dogg low blows X-Pac and gives him his patented Pump Handle Slam. HHH faces Kurt Angle & The Rock in a triple threat world title match, and after Hunter accidentally punches Stephanie, Angle nails Helmsley in the head with a sledgehammer, then the Rock nails Angle out of the ring then gives Hunter Hearst Helmsley the People's Elbow and gets the pin. While Angle carries Steph out of the arena.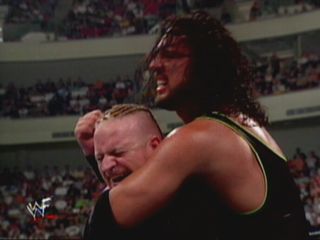 August 28, 2000 RAW: Stephanie is absent from the show. HHH asks Kurt Angle where she took her last night, Angle says he doesn't honestly know due to his concussion he suffered last night. Meanwhile Hunter is getting advice on how to deal about the situation from DX buddies, X-Pac, Road Dogg, and his former ring escort, Chyna. Helmsley hugs Chyna after she gives some advice, and Chyna's boyfriend, Eddy Gurrero just happens to walk in during and gets really mad and they end up having a match where Angle interrupts it giving chair shots to both men.
August 29, 2000 Smackdown Tapings: Stephanie shows up, and says she was watching over her brother, Shane(who suffered a fall of 50 feet from the titantron at the hands of Steve Blackman) Hunter comes out and they make up. But Angle comes out and shows the footage of HHH and Chyna hugging, which makes them more irate the whole night, someone hears the fighting and he calls the cop on Triple H, the cops got their when Steph and Hunter were finally getting their differences solved. The main event was scheduled to be a triple threat match between Gurrero, Angle, and HHH, but with Hunter gone, it was now a regular match, and Foley made Stephanie come into Angle's corner during the match.
September 4, 2000 RAW: Mic Foley brings out all the suspects to see who called the cops on Triple H, which happens to bring out HHH himself, Steph, Angle, Gurrero, and Chyna, the crowd thought Angle did it, but Test comes out and admitted himself doing it for "Revenge" against Helmsley stealing Steph as his wife from the Nov. 29, '99 RAW. They fight in a singles match and HHH wins. Road Dogg pops up as Val Venis's mystery partner against The Goodfather and Bull Buchanan in tag action where they win.
September 5, 2000 Smackdown Tapings: Another smaller part for Mr. Helmsley who just beats Test & Albert in a handicap match. Meanwhile Jericho pinned X-Pac while keeping his feet on the rope.
September 11, 2000 RAW: Hunter fought Jericho, and X-Pac ran in and gave Jericho an X-Factor to cause a DQ loss, this got Hunter mad and he shoved X-Pac down. Later while Jericho's doing a signing X-Pac brutally attacks Jericho.
September 12, 2000 Smackdown Tapings: Commissioner Foley schedules Angle & HHH to team up against Test & Albert, where both superstars make fun of each other, but while Stephanie grabs Test legs and holds him off, Trish knocks Steph down from behind, and while Hunter checks on his wife, Test gives him a slam from behind for the pin. Also X-Pac teamed with Edge & Christian to beat The Hardy Boyz and Jericho in a triple threat match.
September 19, 2000 RAW: Stephanie, HHH, and Kurt Angle team up to face Test, Albert, and Trish Stratus, where HHH gets a Pedigree for the win, Stephanie hugs Kurt to celebrate, and Hunter beats the crap out of Kurt for it.
September 20, 2000 Smackdown Tapings: X-Pac teams with Tazz to take on Lawler & Jericho, where X-Pac chases Jericho to the back. In a triple tag match between HHH, Undertaker, and The Rock against Angle, Kane, and Benoit where all, but Angle & Hunter brawl back to the ring, Helmsley whips Angle into an awaiting Stephanie, while Angle checks on Steph, Hunter rolls him up from behind for the 3 count, an enraged Angle gives an Olympic slam to Hunter then gives him a sledgehammer shot to the ribs.
September 24, 2000 PPV: Unforgiven: Jericho beats X\_Pac, but X-Pac beats Jericho after the match with knunchucks. Hunter has busted ribs as he faces Angle, and after all of Angle's shot to the ribs, Hunter still beats him with a Pedigree. Stephanie doesn't even bother checking on him after the match, but joins his husband.
September 25, 2000 RAW: In a first blood match, X-Pac busts Jericho open first, but the ref is Knocked out, later Jericho bust X\_Pac open right when the ref sees him and so Jericho won. In the main even The Rock faced Benoit for the title accompanied by Shane McMahon, in the match, Benoit accidentally nails Shane with a chair, Stephanie and HHH come out to help him out of the ring, but Benoit accidentally runs into Hunter and so Hunter gives Benoit a jawbreaker, which helps Rock beat him. In return Benoit head-butts Stephanie.
September 26, 2000 Smackdown Tapings: With Austin on his pursuit to see who ran him over from the '99 Survivor Series, he interviewed prime DX member suspects, X-Pac & Road Dogg, who denied doing it, but later on, he cost Road Dogg his match for the Hardcore Title against Steve Blackman by whacking him with a chair, and then cost X-Pac his European title match by giving the Stunner to him and champ, Al Snow.
October 2, 2000 RAW: X-Pac teamed with Tazz and Raven to take on Chris Jericho and the Dudley Boyz, and after a wild match, X\_Pac's team lost after Jericho pinned Tazz. HHH fought Kurt Angle in a #1 contender's match, Hunter told Stephanie to stay in the locker, but a couple minutes into the match Steph came out, later Benoit came out and was about to attack Steph, but HHH saved her, but then Benoit whacked HHH with a chair and Angle got his Olympic Slam for the pin. A angered Triple H then turned his back on his wife. Plus on a semi-related DX note, Billy Gunn made his return to the WWF and appeared for the first time since he got injured this past February and got kicked out of DX.
October 3, 2000 Smackdown Tapings: Billy Gunn interrupts X-Pac's match against Al Snow for the European title and gives him the fameousser/Rocker Dropper for X-Pac to lose. More trouble between Angle/HHH/Steph which I'm too bored to write about.
October 9, 2000 RAW: Yet more, tedious trouble between HHH and Steph, where HHH doesn't want Stephanie escorting him to matches anymore for her safety, yet Stephanie keeps helping Angle win his matches.
October 10, 2000 Smackdown Tapings: In a triple threat IC title match, X-Pac nails the X-Factor on Chris Jericho, but Champ, Eddy Gurrero, tosses him out of the ring, and covers Jericho for the pin. HHH teamed up with Road Dogg and they defeated Benoit and Perry Saturn when Hunter pinned Saturn after a Pedigree. Afterwards Benoit put the Crippler on HHH, and Stephanie tried to help, but Helmsley got mad at her and told her, "What part of no don't you understand?" Later that night, Kurt Angle announces Stephanie as his new, permanent ring valet.
October 16, 2000 RAW: Hunter gives the OK for Stephanie to start accompanying Kurt to ringside, and says it is Kurt's responsibility for her safety. Later during HHH's match with Kane, Benoit interfere's and locks the crossface on Hunter, and Kurt kept Stephanie in the back during this. Also X-Pac attacked Jericho during his match with Eddy Gurrerro. Road Dogg also faced off against Val Venis into a no contest.
October 17, 2000 Smackdown Tapings: X-Pac teamed with Edge & Christian to take on Jericho and the Hardy Boyz. It ended up in a rumble. Road Dogg beat Raven in a match, he also mis-announced the city he's in(He said "Hello, Detroit!" when they're actually in Cleveland). HHH, Kurt Angle, Chris Benoit, and The Rock face off in a 4 corner non title match. Steph, was still in Kurt's corner, Rock got a people's elbow drop on Hunter, but he and Benoit fought out of the ring, and Angle came to the ring to make the pin.
October 22, 2000 PPV: No Mercy: Chris Jericho beats X-Pac in the Cage match. Stephanie comes out and helps HHH beat Chris Benoit. Steph goofs while helping Kurt Angle, and gets injured, but Hunter brings her to the back, but Angle ends up winning the World title from the Rock any ways.
October 23, 2000 RAW: In a main event triple threat match for the world championship. The Rock, Hunter, and Kurt Angle go to a no contest.
October 24, 2000 Smackdown Tapings: Triple H teamed with Road Dogg and loss to Dean Malenko and Chris Benoit after the Radicals cheated to win.
October 30, 2000 RAW: Hunter gets a non title match against Kurt Angle, and beats the crap out of him, and loses by DQ. X-Pac is hanging out at WWF New York (an sports bar entertainment complex at Time Square) and he runs into Tori, who chews out X-Pac for allowing the Dudley Boyz to 3D Tori through a table back at the June 2000 King of the Ring(where we last saw Tori), and slaps him and leaves.
October 31, 2000 Smackdown Tapings: HHH faces Benoit, and during it, Malenko, Gurrero, and Saturn all interfere and have a Radicals reunion.
November 6, 2000 RAW: Hunter manages to bring back a DX reunion for one night only by having HHH, Road Dogg, Billy Gunn, and Chyna(however, X-Pac seemed to be AWOL for the night) team up to take on Malenko, Benoit, Saturn, and Eddy Gurrero, where they win the match after Hunter pinned Malenko after a Pedigree. Later in an Austin/Rock vs. Rikishi/Kurt Angle match, Triple H comes out and gives a sledgehammer shot to Rock, and admitted to helping out Rikishi run over Steve Austin with a car nearly a year ago, at Survivor Series 1999.
November 7, 2000 Smackdown Tapings: Helmsley explains his actions for nailing Austin to be that he hated the face pops he was getting, and it drove him mad!
November 7, 2000 Heat Tapings: Road Dogg appears on and off the show, and so does another mysterious superstar by the persona of K-Kwick, they argue throughout the show, and by the end of the broadcast, become new tag team partners in wrestling and singing when both started doing a rap version of Road Dogg's theme.
November 13, 2000 RAW: The Radicals now respect Hunter for his actions against Stone Cold a week ago. K-Kwik interrupted Road Dogg's match against Steven Regal for the European title, and both fended off against him(so Regal got a DQ win), A match is signed for Survivor Series which pits Austin against HHH.
November 19, 2000 PPV: Survivor Series: In an Survivor Series elimination match, The Team of Billy Gunn, Road Dogg, K-Kwik, and Chyna were all eliminated by the Radicals. When Triple H fought Stone Cold, Austin brought in a fork lift and lifted up Hunter in a car(who was waiting to run over Austin) and raised him about 15 feet in the air, and Austin then dropped the car. This was the last segment of the PPV where Hunter yelled "Holy Shit" as he was being dropped.
November 20, 2000 RAW: Road Dogg, K-Kwik, and Billy Gunn all teamed up and defeated The Radicalz in a Triple Tag Match. Stephanie returned after about being M.I.A. for a few weeks and announced her and HHH were attempting to have a baby, and says that Hunter is doing ok after last night's accident. Austin came out, apologized for not beating up Helmsley even more after the fall, and then told Steph to "go to hell." Stephanie then left crying.
November 27, 2000 RAW: Raod Dogg and K-Kwik beat Test & Albert in a match. Stephanie interferes in Austin's match against Angle for the World Title, right when Austin is about to win, Hunter returns and brutally attacks Austin.
November 28, 2000 Smackdown Tapings: Commissioner Foley announces a 6 man title hell in a cell match between Champ Angle, and HHH, Rikishi, Steve Austin, Undertaker, and The Rock at the Armageddon PPV. Between, Hunter and Stephanie celebrate their 1 year anniversary on the episode, and Hunter mistakenly attacks Vince McMahon in the dark, mistaking him for Steve Austin.
December 4, RAW: Road Dogg & K-Kwik lose to Edge & Christian. Hunter forms an alliance with Angle and Rikishi so they can easily take on Austin, Rock, and Undertaker at Armageddon.
December 10, 2000 PPV: Armageddon: Road Dogg & K-Kwik lose in their 4 way dance tag match for the tag titles. Hunter loses in his 6 way Hell in a Cell match and supposedly suffers an "herianeted disc" and is injured.
December 11, 2000 RAW: Surprisingly nothing special happened with DX this time on RAW with HHH a no show due to his injury, and Road Dogg & K-Kwik being absent as well.
December 28, 2000 Update: Aftermath HHH & X-Pac are still injured and I don't know when he'll be back. Road Dogg was just suspended a few days ago for drug problems. We don't know when he'll be back. K-Kwik is still around, but he's never been part of DX, so I won't include him in the history. So unless DX reforms again, this will be the last DX History page update.
2002
July 22, 2002 RAW: In this time, the WWF is now the WWE. The WWE is "split" into two rosters: RAW & Smackdown. Triple H was on the Smackdown roster, and Shawn Michaels is on the RAW roster. The day before on a PPV, Shawn convinced HHH to jump over to the RAW team for more fun. So tonight, Shawn & Triple H came out in DX gear and to the old DX theme music. Hunter started to do his old "Let's get Ready to Suck It" catch phrase, but at the end he turned on Shawn and gave him the Pedigree, as seen below.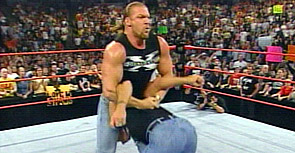 2006

April 2006-June 2006: From Wrestlemania 22 and continuing onward into June in RAW programming, Shawn Michaels and Triple H did little subtle references in their matches hinting towards the DX days via the classic DX crotch chops. Triple H gradually went from his usual serious self and more into a more fun joke-dropping guy like he was back in his DX days. This led to....

June 12, 2006 RAW: Since HHH wasn't favoring Vince McMahon as much as he usually did Vince was starting to punish him by forcing him into handicap matches and failing in making him a member in his infamous "Vince McMahon kiss my Ass club." On this night, Vince ordered HHH to face the entire 5 man team of Spirit Squad in a handicap match. A month or so prior Vince did the same thing to Shawn Michaels and the Spirit Squad "injured" him in the process and Shawn was off television for a good month. Spirit Squad was about to injure Triple H in the process too, but Shawn Michaels ran out to make the save and both showboated with the traditional DX gestures indicating the band was back together.

June 19, 2006 RAW: WWE advertised this RAW to be the "official" DX reunion. Vince started off the show saying he was going to stop that from happening, but shortly into the show Shane came out saying his daughter Stephanie was going into labor and they needed to leave now. Apparently DX made the prank to get rid of the McMahons for the day (even though HHH is the legitimate father of the baby, that fact is not acknowledged on WWE TV). So Vince leaves his executive assistant, Jonathan Coachman ("The Coach") in charge for the rest of the show. DX proceeds to beat the crap and spraypaint Coach's ass. Later in the show they come out for their "official" reunion. They rundown their usual "Let's Get Ready to Suck It" and "Two words for ya" catchphrases. DX is billed for a match against Spirit Squad this Sunday at the Vengeance PPV, earlier in the show DX dumped green slime on them, and later a midget version of them runs in to break up the DX reunion. DX easily manhandles them as Spirit Squad watches in disgust as the show goes off the air.

June 25, 2006 Vengeance PPV: Shawn and HHH team up to beat the Spirit Squad in a 5-on-2 handicap match. They didn't really have that many problems in doing and proceeded to beat up the entire Squad after the match, as well as shoving on of the Spirt Squad's face in HHH's ass.

June 26, 2006 RAW: HHH and Shawn are scheduled to face Shane and Vince McMahon in a tag match, they come out to the ring dressed as the McMahons and do pretty funny impersonations of them. The McMahons then come out with the Spirit Squad to back them up and at the entrance ramp, shit falls down from the ceiling and drenches The McMahons and Spirtit Squad. This results in cancelling the match for the night.

July 3, 2006 RAW: Vince McMahon banned DX from the building. In a shocking turn of events DX actually obeyed Vince but they still managed to ruin the night for him. They started things off innocently enough by having a BBQ outside the arena with a bunch of girls. Since Shawn Michaels is a born again Christian they do antics to get him off camera for DX's raunchier gags. In this case, HHH told Shawn that Mr Fuji was around the corner to distract him so he can get some gals to flash a WWE truck driver. Later DX took over the WWE Production truck outdoors and messed with RAW's telecast. They did instant replays of Divas running down to the ring and throwing in sound effects when Vince McMahon was talking to get him aggravated and piss him off into leaving before RAW was even done. As he was leaving a gas bomb went off in Vince's limo and he emerged from his limo smothered in green powder.

July 10, 2006 RAW: McMahon invited DX to the building with open arms this week and when they came out McMahon attempted to throw a net down on them from above and missed. DX then laughed and ridiculed the McMahons for such a lame prank.

July 15, 2006 Saturday Night's Main Event: While Vince was giving a pep talk to the Spirit Squad, Shawn and HHH interruped mimmicking their interview as they all prepared for their 5-on-2 elimination match. DX easily disposed of all 5 members of the Spirit Squad within 7 minutes.

July 17, 2006 RAW: In DX's opening promo they shill their new shirts, and then they try and run house until Vince McMahon cuts him off. He books Shawn vs Shane for the main event. Right when Shawn was about to beat Shane the Spirit Squad runs in and demolishes both of DX until HHH evens things up with his sledgehammer and left DX standing tall at the end of RAW.

July 24, 2006 RAW: Triple H was gone for the night as was the McMahons to go to the hospital for Stephanie giving birth to her child (for the few who don't know, HHH is the father). So HBK comes out at the beginning of the show to explain the situation, but Coach comes out (recently titled RAW's executive assistant) and tells Shawn he will be wrestling the Coach himself tonight. Shawn demolishes DX until Spirit Squad interferes to no avail, but then the "Undefeated Samoan Bulldozer" Umaga runs-in and pummels HBK.

July 31, 2006 RAW: Shane & Vince McMahon come out at the beginning of the show to bloat about Vince's new granddaughter, and they announce that they will be facing DX in a tag match at Summerslam. DX comes out to interrupt, and HHH says while he was at the hospital he got the McMahon family album and showed several doctored photos Vince and Shane in baby form, and later one of the new McMahon child which was just Helmsley in baby form. Later on backstage, FBI agents busted Triple H for having Cuban Cigars that the McMahons planted earlier on. This leaves Shawn all alone to face Umaga later in the show. After help from the McMahon and the Spirit Squad, Umaga pins Michaels and beats the holy hell out of him. Umaga vs. Triple H is announced for next week's RAW.

August 7, 2006 RAW: Shawn Michaels takes Shane McMahon's bait by attacking him in front of police officers and ends up getting taken away from the building to leave Triple H alone against Umaga. And with lots of interference from the McMahon's, Umaga pins HHH.

August 14, 2006 RAW: DX did nothing too notetworthy on this show. It was the go-home RAW before Summerslam. DX went to the ring and cut a promo on the McMahons saying how they're gonna beat them, then the McMahons came out and did the same thing at the entrance ramp.

August 20, 2006 PPV: Summerslam: DX had a very entertaining match against the McMahons. Before entering the match, the McMahon sent the Spirit Squad down to the ring, but DX made a quick disposal of them. Then they sent down Ken Kennedy, William Regal, and Fit Finlay which DX took a tad longer to dispose of. Then came the Big Show who destroyed HBK and chokeslammed Triple H through a table. While HHH was recovering, the McMahons wailed away on Michaels, giving him finishers that mocked three of WWE's greatest tag teams: Demolition, Hart Foundation, and Legion of Doom. Finally HHH got in and DX got the upper hand until Umaga came out to beat up DX, but then Kane interfered on DX's behalf to even up the score. This resulted in HHH giving a pedigree to Vince for the Pin.

August 21, 2006 RAW: The McMahons are pissed off after losing the previous night and guarentee revenge on DX. They get interrupted via their in-suite television with DX over at the airport inside Vince McMahon's personal jet. As we see Shawn & Hunter walk out of the aircraft, the camera pans out to see they spray painted in big green letters "DX" on the side of the jet. Vince nearly breaks down in tears. Later that night Vince walks out to the ring and says he sent police down to his air hangar to arrest DX and commanded the camera man at the air port to appear on the titantron. Instead we get another camera with DX, this time on top of Titan Towers at the WWE main corporate headquarters in Conneticuit. HHH & HBK are on the rood and yell out "Suck It" as the camera pans out so we see the entire building with "DX" spray painted all over the WWE main logo on the tower. Vince breaks down in tears again and later on he and Shane leave the building, but as their limo takes off we see a chain connected to the bumper and it completely yanks off bumper and rear axel of the limo. Vince and Shane emerge out of the limo very pissed off, and Vince appears to have a nervous breakdown as Ross on commentary says that DX has broken Vince McMahon.

August 28, 2006 RAW: Shane McMahon decides to run RAW for the day so Vince can relax at the hotel and ease his nerves. DX ends up having room service send him a cage of roosters which causes Vince McMahon to break down. DX is booked that night against mystery opponents which Shane later reveals to be Smackdown's Kennedy, Finlay, & Regal in a 3-on-2 handicap match. Shawn & Hunter end up defeating them, but then Big Show runs in to get the upperhand. With DX weakened, Vince runs in with a lead pipe and bashes the hell out HBK & HHH with it, leaving them bloody as RAW goes off the air. It's announced at the next PPV, Unforgiven, DX will face the McMahons & Big Show in a handicap Hell in a Cell match.

September 4, 2006 RAW: Vince & Shane & Big Show hold an interview in the ring (with security surrounding ringside) saying how great they are and how they are gonna beat DX at Unforgiven. Big Show also says he'll take on DX in a handicap match the next night on ECW on Sci-Fi. DX runs out, pissed as hell as the McMahons & Big Show retreat, but DX beats the hell out of the security guards to let them know they mean business. Later that night Vince announces he'll face Triple H next week on RAW, which happens to be in Madison Square Garden.

September 5, 2006 ECW on Sci-Fi: DX faces Big Show in a handicap match. It is pretty back and fourth action. DX looks like they're about to get the win as Hardcore Holly runs in and attacks DX for the DQ and a big brawl erupts as the show goes off the air.

September 11, 2006 RAW: Before HHH and Vince McMahon do battle, DX is attacked backstage by the McMahons, Big Show, and Lance Cade & Trevor Murdoch. Both are left bleeding, and Triple H limps out to his match against Vince, which he now proclaims is No DQ. Even with very little help from a battered HBK, HHH got demolished throughout the match from constant interference from Shane & Big Show and got pinned by Vince, 1-2-3.

September 17, 2006 PPV: Unforgiven: DX faces Vince & Shane McMahon & Big Show in a handicap Hell in a Cell match. Highlights include KO'ing Big Show so Vince got his head shoved up Big Show's ass. DX ends up gaining the advantage, they "Pillmanize" Shane's neck, and HHH gives a sledgehammer shot to the back of Vince for the win.

September 18, 2006 RAW: RAW Executive Assistant Jonathan Coachman ("The Coach") has various wrestlers giving get well wishes throughout the night for the McMahons. DX eventually intrudes and send their heartfelt condolences. Coach later makes a match where DX and John Cena team up to face Edge and the tag team that beat up DX last RAW, Cade & Murdoch. DX and Cena wind up victorious as they deliver their finishers to all of their opponents.

September 25, 2006 RAW: Coach books DX to run a tag team gauntlet against three teams. DX ends up defeating the Highlanders, Charlie Haas & Viscera, but the match is thrown out against the last team of Murdoch & Cade when Cade brings a chair to the ring and the team runs scared.

October 2, 2006 RAW: DX is all over this show. Coach books DX in an 8-man tag team tornado match at the beginning of the show against Highlanders, Haas & Viscera, and Cade & Murdoch. DX makes it seem easy although all 6 are against only them, and Shawn pins Haas within a few minutes. DX immediately chases Coach down and for a little while throughout the show, where eventually Coach KOs himself in fear, and DX gets him wheeled away in a trash wheelbarrow. DX then declare themselves as in control of the show now, and their first order of business is to make the entire Spirit Squad appear in skimpy dresses for Nicky's match against Sgt. Slaughter, DX appears on titantron during the match to distract Nicky so Slaughter can get a rollup for a win. In the main event of the night between Cena & Edge in a Cage, Murdoch & Cade run out to interfere, but DX makes the save an allows for Cena to get the win.

October 9, 2006 RAW: This is a special "3-Hour Season Premier" episode of RAW. DX did a PSA promo, where both HBK & HHH stood in front of a podium and gave fake apolagies for their actions last week. DX faced Cade & Murdoch in a street fight that night, which featured Shawn doing an elbow through a table on Murdoch, and Hunter pinning Cade after a Superkick/Pedigree combo. Later in the show Edge interviewed Randy Orton in his "Cutting Edge" talk show segment, and convinced him to join forces to gain revenge on DX for their actions last week.

October 16, 2006 RAW: Orton & Edge come out to start the show dressed up as and impersonating DX and mocking their actions. DX then confronts them and makes fun of Edge's lack of manliness, and Orton's makeshift gay community. The main event of the night is HHH vs. Randy Orton, where DX gets the win after some interference from Shawn Michaels.

October 23, 2006 RAW: Earlier in the show Orton and Edge dub themselves "Rated R-K-O." Orton wrestles Triple H again in a rematch, this time with Edge getting the upper hand in interference and with Orton getting the win. It is announced that Edge & Randy Orton will face DX at the next RAW brand PPV, Cyber Sunday. Cyber Sunday is the yearly PPV where the fans get to vote on special challenges and stipulations for each match. For this match the fans get to vote for who the special guest referee is and their choices being Vince McMahon, The Coach, and Eric Bishoff.

October 30, 2006 RAW: Shawn Michaels is not at RAW due to personal matters so Triple H goes it alone that night, but that proves irrevelant as he manages to get the upperhand against both Randy Orton and Edge on his own.

November 5, 2006 PPV: Cyber Sunday: Eric Bishoff is voted the guest ref for DX's match against Randy Orton & Edge. DX beats up Bishoff early on so another ref takes his place. DX later on is about to get the win, but right when the replacement ref is about to count to three, Bishoff requires and pulls the extra ref out of the ring. Shawn Michaels chases him out of the ring and runs into a Edge chair shot, right after that HHH tries to Pedigree Edge, but Orton catches him with an RKO from behind for the pin.

November 6, 2006 RAW: Due to the success of his recently released biography, and his ref job the night before, Vince names Eric Bishoff for one night only, General Manager of RAW. One of his acts was to ban DX from the building for the night, he also put Rated RKO in a tag team title match against champs Ric Flair & Roddy Piper. In that match, in which Eric Bishoff is guest referee, DX runs in and HBK superkicks Orton and places Flair on top for the pin. They then beat up Bishoff and bring out a male stripper known as "Big Dick Johnson" to dance and smother Bishoff to close off the show.

November 13, 2006 RAW: DX opens the show by doing their usual in-ring promos. Coach comes out and announce he's placing a $10,000 bond on them for whoever can take out DX. He then puts them in a 4-on-2 handicap match against Lance Cade, Trevor Murdoch, Charlie Haas, & Viscera. DX still comes with a victory however when Triple H pins Haas after a Pedigree. Throughout the night superstars continuously fail at beating up DX like the Spirit Squad and Eugene. Later on DX says they just get bored and decide to boot themselves from the show and collect on their own bounty from the Coach. They then use some of that bounty to buy tickets from scalpers to get back into the show. They end up sitting at ringside and lead the crowd in chants of "Lita's a ho" in order to distract her and lose to Mickie James. Coach then comes back out and ejects them from the building.

November 20, 2006 RAW: The opening of RAW features all of the Survivor Series teams in a duel of with in interviews. DX is the captain of a 5 man team at Survivor Series (other members are CM Punk, and Matt & Jeff Hardy). Vince McMahon comes out and says the captain of all the teams tonight will face off in an 8 man tag. So the main event of RAW ends up being Shawn, HHH, Ric Flair, & John Cena against Edge, Randy Orton, Kenny of the Spirit Squad, and Big Show. Thing finish just as you expect with Cena getting the pin on Kenny.

November 26, 2006 PPV: Survivor Series: DX's team of HHH, Shawn Michaels, CM Punk, and the Hardy Boyz annihilate Team Rated RKO which consisted of Edge, Randy Orton, Johnny Nitro, Gregory Helms, and Mike Knox. DX won with their whole group still remaining.

November 27, 2006 RAW: Ric Flair opens the show, he brags about his legends team beating the Spirit Squad team in a traditional Survivor Series match. He challenges the entire 5 man team of the Spirit Squad and brings out DX as his partners in this 3-on-5 tag team match. Before the match starts Triple H guarentees us it'll be the last time we see the Spirit Squad. Match ends with Flair, HBK, and HHH making three Spirit Squad guys all tap out to their own Figure Four Leglock at the same time. After match ends DX is celebrating in the back with the legends Flair teamed up with the night prior (Arn Anderson, Dusty Rhodes, Ron Simmons, & Sgt Slaughter) and they tell them they got a huge party lined up for Flair tonight as they all leave the arena. However Flair couldn't make it as Rated RKO drag him out from the back and leave him a bloody mess in the ring and brag about how DX couldn't save him.

December 4, 2006 RAW: DX is first seen in a backstage interview with Todd Grisham, Shawn tells Grisham that Edge & Orton will pay dearly for the beating they gave Flair last week. HHH just stands in the background looking pissed, this is the most serious DX has looked since they reunited. Earlier in the show, Kenny of the now-defunct Spirit Squad confronted Rated R.K.O. and asked if they could take him under his wing and ally himself with them. Edge & Orton responded by saying he has to prove himself to them first. In the main event of the night, it was an 8 man tag with DX & the Hardyz teaming up to take on Rated R.K.O. and MnM. Towards the end of the match, Kenny ran out from the crowd and blindsided DX with chairshots, which led to the other team gaining the advantage and later pinning one of the Hardyz to win. DX was irate afterwards, and beat the crap out of Kenny after the match for causing the loss as Rated R.K.O. look on as it seems that Kenny has just proved his trust to them.

December 11, 2006 RAW: Triple H was scheduled to take on Edge, but that match got interrupted early and turned into a big pier six brawl with Rated R.K.O. and Kenny gaining the advantage against DX, until Ric Flair ran out and returned to even up the odds. Coach then came out and instantly made a triple tag team match between the six which saw DX coming out on top.

December 18, 2006 RAW: This was a special three hour episode of RAW which started off with a 30 man battle royal where the winner would later on that night get a WWE Title match against Cena. Both HBK & HHH were in the Rumble and when it came down to the final six guys it was down to Chris Masters, Triple H, Shawn Michaels, Lance Cade, Randy Orton, & Edge. Hunter clotheslined Masters which left Hunter open against the ropes at which point all four heels ganged up and eliminated Hunter. Orton later turned on Cade and tossed him over, then later Shawn eliminated Orton and then Edge eliminated Shawn to win. In Edge's title match against Cena later that night DX interfered and cost Edge the match. Later on that night however Rated R.K.O. got their revenge when they left DX a bloody mess as the show went off the air.

December 25, 2006 RAW: This was the WWE's annual Christmas for the Troops show that was taped from Iraq. It is only notable because neither members of DX were on it.

2007

January 1, 2007 RAW: Shawn & Hunter only do an in-ring interview for this show. Shawn talks on about how he's finally glad to see some real competition for once in the form of R.K.O. Nothing too special happened here as it was the main go-home hype show for their grudge match at New Year's Revolution.

January 7, 2007 PPV: New Year's Revolution: During the tag match between DX and Rated R.K.O. a freak accident happened where Triple H blew out his quad again like he did in his May 2001 RAW Tag Match against Jericho & Benoit. Here, as he was bringing down Orton for a Spinebuster he landed awkardly and hurt his knee as he was walking very gingerly on it for the last several minutes of the match. HHH kept fighting until the end of the match, which saw HHH giving a pedigree on the announcer's table to Edge, and Shawn giving a diving elbow off to Orton through the other announcer's table. At that point the ref called the match off.

January 8, 2007 RAW: Rated R.K.O. comes out and brags about how they are going to kill DX for good after their 2-on-1 handicap match against Shawn next week, Shawn Michaels later interrupts and simply says he doesn't know if DX is dead or not and that HHH will be with him inside as he takes on Rated R.K.O.

January 15, 2007 RAW: Rated R.K.O. takes out Jim Duggan early in the show and say they did it because they saw him in Shawn's locker room and they're going to take out anyone who tries to help Shawn in his match. Later Shawn arrives and Flair runs across Shawn and says he has Shawn's back. Of course this later leads to Rated R.K.O. taking out Ric Flair later in the night. Grisham catches up with Shawn at the scene, and Shawn tells Todd Grisham that this may be the end of DX but he's going out in a blaze of glory and is going to take out everyone in his path. HBK then superkicks Grisham right then and there. In the 2-on-1 handicap match, the ref throws the match out when Rated R.K.O. brings in chairs to the mix. Edge is going to give Michaels a concerto, but Shawn kicks the chair in Edge's face. HBK then gives sledgehammer shots to Edge & Orton, and then a concerto to Orton as Edge watches in terror to close the show while Jim Ross announces "DX Lives."

January 22, 2007 RAW: In the final RAW leading up to the Royal Rumble, Shawn Michaels faces Edge in a street fight in the main event. It is a really good, back and fourth match (my official first match of the year candidate). In the end however Randy Orton sneaks up and gives Shawn an RKO from behind which leads to Edge getting the pin.

January 28, 2007 PPV: Royal Rumble: Shawn Michaels finishes as the runner-up for the 2007 Royal Rumble match. He had a strong showing, as he eliminated Edge and Randy Orton to make it come down to just him and Undertaker in the end. The two battled for several minutes, but it was the Undertaker who came out on top winning the Royal Rumble match by eliminating Shawn Michaels.

January 29, 2007 RAW: Shawn Michaels & John Cena team up to face Rated R.K.O. for the tag belts. Before the match Ric Flair warns WWE champ, Cena that all Michaels wants is to main event Wrestlemania with a shot for his belt and to be on the lookout for Shawn's Superkick at any moment. HBK & Cena end up winning the belts from Edge & Orton, and Shawn is about give Cena a Superkick, but Cena catches him and confronts him about it and then the Undertaker interrupts to make it seem that he will challenge John Cena for the championship at Wrestlemania (since there are three WWE brands, the winner of the Rumble match can challenge whichever brand's champ at Wrestlemania).

February 5, 2007 RAW: Shawn Michaels wrestles Edge & Randy Orton in the main event where the winner gets to main event Wrestlemania against Cena for the belt. Edge went for a spear on HBK, but Shawn just ducked out of the way and let him hit Orton instead, and proceeded to Superkick Edge out of the ring and covered Orton for the three count. RAW's mania main event will now be HBK against Cena for the belt (YES!).

February 15, 2007 RAW: This week's RAW was on Thursday due to the annual dog show on USA network. Shawn was part of an 8 man tag match that saw his team of HBK/Cena/Batista/Undertaker defeat Orton/Edge/Ken Kennedy/MVP when Orton got pinned.

February 18, 2007 PPV: No Way Out: Shawn was in the main event tag with Cena against Batista and Undertaker. Batista ditched his partner and left him to get pummeled and pinned against Cena and Michaels.

February 19, 2007 RAW: Shawn is on the show getting interviewed backstage with John Cena. They talk about him and Cena being on the same page and working as a team at No Way Out and says he'll have Cena's back until Wrestlemania and make sure nothing happens to him until then. After that Shawn Michaels plugs the new DX DVD, and and Cena tries to outdo him by plugging his movie, "The Marine" on DVD. Later in the show HBK ran out to aid Cena after Rated RKO was double teaming Cena to close the show.

February 26, 2007 RAW: Shawn & Cena successfully defended the tag belts against Orton & Edge. Cena & Shawn didn't really celebrate that much afterwards as they uneasily stared each other down after the match indicating a not so high trust level in each other.

March 12, 2007 RAW: Coach made Cena & Michaels defend their tag belts in a tag team gauntlet match. They defeated Lace Cade & Trevor Murdoch, Charlie Haas & Shelton Benjamin, and finally Joey Mercury & Johnny Nitro in a steel cage.

March 26, 2007 RAW: It is the last RAW going into Wrestlemania 23, and Shawn Michaels and Cena team up to take on Batista and Undertaker (who are also facing each other at Wrestlemania). All seems to be going well and good, when finally somebody turned on someone, and that was Shawn Michaels, who Superkicked Cena to hell, allowing Batista to cover him for a win.

April 1, 2007 PPV: Wrestlemania 23: Shawn Michaels faced John Cena for his belt in the main event. They went just over 25 minutes, and put on a show stealing performance, but in the end Shawn Michaels ended up submitting to Cena's STF-U. Cena extended his hand after the match, but Shawn blew off Cena.

April 2, 2007 RAW: Coach made Cena & Michaels defend their tag team belts in two straight tag team battle royals where if one team member goes over, the tag team as a whole is automatically eliminated. Cena and Michaels won the first battle royal, but in the second Shawn threw out Cena from behind and thus cost their team the belts. The Hardyz ended up winning the battle royal and the belts.

April 9, 2007 RAW: Michaels and Orton wrestle to see who is the number one contender for Cena's belt. After a wonky double pin finish which resulted in a non-finish, the announced Backlash PPV main even is a four way between Cena/Michaels/Edge/Orton.

April 23, 2007 RAW: In a non-title Wrestlemania 23 rematch, Shawn Michaels and Cena fight for over an hour where Shawn ends up coming out victorious with a Superkick.

April 29, 2007 PPV: Backlash: In the final moments of the main event of Orton/Michaels/Edge/Cena, Edge spears Orton, Cena then gives Edge an F-U, Shawn Michaels follows up with a Superkick to Cena, who conveniently falls on top of Orton for a three count before Shawn realizes it.

April 30, 2007 RAW: Shawn Michaels was going to have a non-title rematch with John Cena, but is attacked by the Great Khali on his way to the ring.

May 7, 2007 RAW: Shawn Michaels faced off against The Great Khali and got demolished by him. The ref stopped the fight after Khali slammed Shawn Michaels through the announcer's table.

May 14, 2007 RAW: Shawn Michaels ran into Randy Orton backstage and they set up a PPV fight for the upcoming Judgment Day PPV the coming Sunday. Shawn Michaels wrestles Edge later in the main event, and after getting pounded on almost throughout the match, Shawn makes an amazing comeback and gets the superkick for the clean win. After the match though, Orton comes out and beats up Shawn to end the show.

May 20, 2007 RAW: Shawn Michaels is "diagnosed" with a concussion before his match and is then jumped backstage by Orton before his match. The WWE doctor doesn't clear Shawn to wrestle, but he limps on out to his match anyways, where he barely lasts five minutes before "collapsing" in the ring and Orton is declared winner via forfeit.

Note: Shawn is in actuality taking time off for a knee injury, and for the past month has been using his own entrance music, and not DX music. Unless DX is specifically mentioned when Shawn or HHH come back from their injuries, consider this to be the last DX history update for until the next official reunion.

November 5, 2007 RAW: The week before on RAW HHH (who returned from injury at Summerslam) was getting jumped by Orton and Umaga, then Shawn Michaels (who returned from "concussion" a month prior) ran down to help out Helmsley. After the brawl settled down, Vince ordered that DX reunite for one night only on this episode of RAW to face Orton & Umaga in a tag team match. DX opened the show, and every time they tried get in their "let's get ready to suck it" tagline they got interrupted, first by Hornswoggle, then Boogeyman, then the Great Khali. No, these 3 didn't interrupt to stir trouble, they simply wanted to join DX, which DX gladly did. Then Coach interrupted to shutdown the madness, which followed by HHH telling Great Khali something he "overheard" Coach saying about Khali earlier. Khali then attacked Coach and chased him to the back. Later, Hunter & Shawn just brought back the big, fat, oily dancer guy to fill time before the main event. In the main event tag match, DX defeated Orton & Umaga after Michaels pinned Orton after a Superkick.

2008

January 28, 2008 RAW: Triple H is in a tag match against Umaga and Gene Snitsky and got the chance to pick a partner of his choosing. So of course, he consulted Shawn Michaels and reformed DX for one more one-night reunion. They bested the duo, after Helmsley pinned Snitsky with a pedigree.

September 29, 2008 RAW: Shawn Michaels is advertised to wrestle in the RAW main event against Lance Cade & Chris Jericho with a mystery partner, who ends up to be Triple H, thus another one night DX reunion. The match gets thrown out after Cade & Jericho double team past a 5 count, but DX gets the post match beat down on Cade with Michaels delivering a splash on Cade from the top of a ladder.

2009

August 3, 2009 RAW: Triple H lost a 2-on-1 handicap match to Ted Dibiase & Cody Rhodes, two members out of a stable named Legacy, headed by Randy Orton. Triple H got on the mic afterward and stated he is getting too old to do all the "gang warfare stuff" on his own and that he is thinking of making a call to reform a group, and said it was not Evolution because "Randy's a jerk, Batista's always hurt and Ric Flair is off signing autographs at the VFW or somewhere." He is later shown backstage trying to contact Shawn Michaels with little luck, who has been on a sabbatical since losing to Undertaker at Wrestlemania 25 earlier in the year.

August 10, 2009 RAW: Triple H is shown in a series of sketches throughout the show looking for HBK at on office complex he was told to meet at, only to discover Shawn Michaels is working in the cafeteria as a chef. HHH was adamant on reforming DX, and at first Shawn would have none of it; but after having tater tots thrown in his face by a little girl and getting chewed out by his manager for starting grease fires he decided to superkick both the manager and the little girl (!) and walk out on his job to reform DX.

August 17, 2009 RAW: Shawn and Hunter enter the building in a white limo with the DX logo spray painted on. As they are making their way backstage Hunter is telling Shawn not to worry as nothing has changed since he left and that their is still chaos going around all over. In the midst of this statement, Shawn puts a garbage can over an ecstatic Jillian Hall who was doing her horrible rendition of DX's theme music, and HBK gave some Sweet Chin Music to Santino Marella for doing a horrible Jack Bauer impression. Later DX came to the ring and as HHH was doing his usual "Are You Ready" promo, Rhodes & Dibiase jumped DX and beat the living tar out of them!

August 23, 2009 PPV: Summerslam: HHH & HBK have a grand entrance for the return DX match, complete with a DX "army" doing a firing demonstration and DX coming out in a tank complete with pyro launcher. DX had a close match with Legacy's Cody Rhodes & Ted Dibiase, but ultimately Shawn Michaels pinned Cody after some Sweet Chin Music.

August 24, 2009 RAW: DX had one of the longest opening segments of RAW history, Vince McMahon came out to make some matchmaking announcements for the next PPV, Breaking Point and was going to leave until DX made their presence known. They pointed out it was Vince's birthday, and threw a big celebration with a crowd sing-a-long, Vegas dancers and yes...the Big Dick Johnson erupting out of a cake squirting baby oil at all. Evolution interrupted and them and DX exchanged words until they made a match for Legacy vs. DX & Vince McMahon. In the main event, DX & Vince walked out the victors, with Vince himself scoring the pinfall!

August 31, 2009 RAW: DX chilled out with Dusty Rhodes backstage throughout the show, watching the new Rise and Fall of WCW DVD backstage with him. DX gave Dusty grief for coming up with the Shockmaster gimmick, and then a voiceover proclaiming the return of the Shockmaster was imminent and out through a wall explosion stumbled through the Shockmaster, who later unveiled himself to be Santino Marella. Santino said he loved the Shockmaster. Later on, Dusty and DX were exchanging shots at who was better during the Monday Night Wars, with Dusty bragging about how they were on top for two years and wondered who WWE's top guy was during that time, which HBK embarrasingly admitted. DX came out in the main even to stop a Legacy beatdown on John Cena, but Legacy got the better of DX also.

September 7, 2009 RAW: Bob Barker was guest host of RAW and did a backstage spin the wheel segment with DX to see who they faced tonight, which was the team of Randy Orton & Chris Masters. DX won when Michaels made Masters tap out to the Figure 4 Leglock. Dibiase & Rhodes then ran out and a brawl insued until Legacy stole a car outside the arena to make their escape.

September 13, 2009 PPV: Breaking Point: Legacy defeated DX in a submission match when Shawn Michaels tapped from a Cody Rhodes Figure 4 around a ringpost, while also being in the Million Dollar Dream from Ted Dibiase.

September 14, 2009 RAW: Shawn fought Ted Dibiase, which resulted in a DQ after interference from Cody Rhodes. DX and Legacy then erupted into a four person brawl into the crowd.

September 21, 2009 RAW: DX cut a promo against Legacy for their upcoming Hell in a Cell match, highlighting their comibined 10 matches of Hell in a Cell experience vs. Legacy's 0. Triple H then had a match with Cody Rhodes, which resulted in a DQ when both Cody & Ted started attacking Hunter with a chair and leaving DX battered and bruised.

September 28, 2009 RAW: Legacy came out and hyped up how they were going to demolish and eliminate DX in their upcoming Hell in a Cell match. DX interrupted and the two groups exchanged words and comic comparisons until DX charged the ring, which resulted in DX retreating to the back.

October 4, 2009 PPV: Hell in a Cell: In the main event DX defeated Legacy. First Legacy jumped DX during their entrance and locked Hunter outside the cage and laid a beatin on Shawn. Eventually, Triple H came to the rescue with wire cutters, and cut his way back into the hell and proceeded to lock Ted Dibiase out of the Cell and finished Cody off with a simultaneous Sweet Chin Music and sledgehammer shot.

October 5, 2009 RAW: Unified Tag Team champs, Chris Jericho & Big Show were verbally messing with RAW guest GM/host (and Steelers QB), Ben Rothlesburger until DX interrupted to get Big Ben's back! The two teams jibberjabbed at each other for awhile until Ben made DX vs. JeriShow in the main event in a non-title match. In the main event when DX had the upperhand, Jericho retreated only to be confronted by the Pittsburgh Seeelers' offensive line at the entrance ramp. This forced Chris to flee to the ring where he walked right into some weet chin music for a loss to DX.

October 12, 2009 RAW: HBK was home attending to his sick daughter, so Triple H was show throughout the night calling and checking in on him. Jeri-Show tried to confront him later and mess with Hunter with no HBK tonight, but HHH played reverse psychology and created some tension between Big Show and Jericho. HHH was captain for the RAW team at the upcoming Bragging Rights PPV and told Big Show he can earn a spot on their team if Show defeated Jericho, which he did by countout.

October 19, 2009 RAW: DX introduced their partners for their upcoming 7 vs 7 tag match at the Bragging Rights PPV who were Cody Rhodes, Jack Swagger, Kofi Kingston, Big Show and Marc Henry. They ribbed on them all a little bit. Triple H fought John Cena in the middle of the show in a PPV calibur match that show Hunter scoring the win with a Pedigree. Later on the show ended with a huge brawl between the teams representing RAW and Smackdown.

October 25, 2009 PPV: Bragging Rights: DX was part of 7 person team representing the RAW roster vs. a team of 7 representing Smackdown. Big Show was on the RAW roster and turned against them and caused the RAW team to lose.

October 26, 2009 RAW: Triple H fought Big Show in the main event and after a ton of interference and some Sweet Chin Music from HBK and HHH's Pedigree, Hunter got the win.

November 2, 2009 RAW: DX was doing commentary for the main event triple threat of John Cena, Big Show and Chris Jericho. John Cena loses and is getting a beat down by Jeri-Show, DX tries to intervene, but Jeri-Show punks them out and leaves them looking up at the stars at the end of the show.

November 9, 2009 RAW: DX interrupts Jeri-Show, who are trying to intimidate the week's guest host Ricky Hatton. Hatton makes DX vs. Jeri-Show for later on.

November 16, 2009 RAW: Hornswoggle has been masquerading in DX gear the last several weeks, with repeated warning from DX to stop for "gimmick infringement." Today is the last straw as DX calls out Hornswoggle at the beginning of the show and said they decided his perserverence paid off and they are going to make him a member of DX. Hornswoggle comes out, and Triple H starts the "Are you ready" routing, but towards the end kicks the Leprechaun and gives him the Pedigree. DX then hoists out Hornswoggle on a DX branded stretcher. In the main event, it is a triple threat tag team match with DX vs. Jeri-Show vs. John Cena and Undertaker, where Cena and Undertaker won when Cena pinned Triple H with an Attitude Adjustment(formerly known as the FU).

November 22, 2009 PPV: Survivor Series: DX faced off against John Cena in a triple threat for the WWE title. DX stated before they would not take it easy on each other and it would be a fair fight, HBK proved that by giving HHH sweet chin music right at the opening bell. Throughout the match, Hunter would be on the receiving end of three superkicks, and it ended with HBK superkicking Triple H, followed by Cena delivering an FU to HBK on top of Hunter for the win for Cena.

November 23, 2009 RAW: DX did some mock-bickering about beating the crap out of each other at the PPV, and were then served papers to stand trial at "little people court" for their beating on Hornswoggle at the previous RAW. DX then had an in ring promo later on, and were interrupted by Chris Jericho who informed them that DX had a tag team title match against Jeri-Show in a TLC match at the aptly title upcoming PPV, "TLC."

November 30, 2009 RAW: Jeri-Show and DX continued their feud with a promo to open the show and came up with a proposition. Jericho challenged Triple H to a match later on, where the loser would have to face the other team in a handicap match. Triple H accepted, and went on to beat Jericho with his first roll-up he attempted in years.

December 7, 2009 RAW: DX shilled Christmas WWE merchandise backstage, while Hornswoggle debuted his new DX shirt, which shows Hornswoggle and DX all together doing the DX crotch chop. DX tries to then talk about Star Wars, and then grow tired of the script and pull the script from out of their pockets, and chase a stage hand off stage for writing this garbage. DX later faced Jericho in a handicap match because of the stipulations from last week. It did not last long however, because surprise, Big Show runs in a few minutes into the match, and together Jeri-Show gains the upper hand and obliterates DX as RAW came to a close.

December 13, 2009 PPV: TLC: DX faced Jeri-Show in the main event for the Unified Tag Team Titles in a TLC match. Jeri-Show ripped the ladders in half to prevent DX from claiming the titles, and Jericho attempted to stand on top of Big Show's shoulders and grab the titles. DX managed to intervene just in time, and Triple H held one of the half complete ladders in place, while Shawn climbed it and retrieved the titles to make DX new Unified Tag Team Champions for the first time in their 12 year history!

December 14, 2009 RAW: This was a three hour version of RAW with Slammy awards presented throughout. DX was nominated for best Tag Team, but Jeri-Show ended up the winners of the award. Shawn Michaels did receive a Slammy for his part in best match of the year against Undertaker at Wrestlemania XXV. Jeri-Show invoked their rematch clause that night for the tag team titles. The bell rung, and in the classic school yard prank, HBK bent over behind the ref and HHH shoved the ref over HBK. The ref was insulted for DX assaulting him, and automatically DQ'd DX (DX retains the titles over a DQ). DX got on the mic right afterwards and pretended to be upset over the loss, and pointed out since Jericho is no longer a unified champion, he can no longer appear on RAW and must go back to Smackdown. Then the DX army, which consisted of several ECW and Smackdown superstars dressed up in DX gear, grabbed and hauled Jericho out of the arena.

December 21, 2009 RAW: DX finally stood trial in "little people's court." They went under the ring, which transformed into a hallway and found a court room filled with Hornswoggle and his fellow little people. They presented video footage of DX in the past harassing, threatening and beating up Hornswoggle. No charges were actually filed as all the little people did to punish DX was throw trash at them. DX told Hornswoggle if he really wanted to be part of DX, then he had to do something to impress him. Later in the show, Big Show was doing a sketch with Chris Jericho disguised as Santa, where Big Show was begging that all he wanted for Christmas was for Jericho to come back on RAW. Hornswoggle would have none of it, as him and his little people army attempted to jump Jeri-Show, which Jeri-Show promptly got the upper-hand on. DX made the save however, and said that Hornswoggle impressed them, but he does not fulfill the height requirement to be an official DX member, but gave him the consolation prize of being the official DX mascot.

December 25, 2009 Smackdown: Since DX is now Unified Tag Team champs, they can now appear on both shows. They were scheduled to defend their tag titles against the Hart Dynasty, and mid-show, interrupted a Hart Dynasty/Chris Jericho interview, belittling them and shilling more of their Christmas merchandise. In the main event, DX successfully defended their tag titles over the Hart Dynasty.

December 28, 2009 RAW: Vince McMahon comes out to address the crowd on rumors of Bret Hart coming to WWE as a guest host. HBK interrupts Vince McMahon and tells him if he brings Bret back, "only good things will happen." Vince later on announces that Bret will indeed be the guest host for next week. Jericho attempts to protest to get back on RAW outside, Big Show sees him outside and tells him it is time to move on, and he found himself a new partner against DX later that night, but gives Jericho a ticket to sit at ringside. In the match, DX prevails when they pin Big Show's partner, Chavo Guerrero. DX beats up Jeri-Show after the match.

2010

January 4, 2010 RAW: Bret Hart was the guest host of RAW, and made his first in ring WWE appearance since the 1997 Survivor Series. In Bret's opening speech for the show, Shawn Michaels came out and confronted him. Both guys wanted closure for the fallout of the 1997 Survivor Series. Essentially, both guys kissed and made up for what happened that night. I am not kidding that actually happened. Later DX defended their tag team titles against Jeri-Show again, this time with the stipulation that if Jeri-Show loses, Jericho is gone off RAW for good. DX then proceeded to successfully defend their tag team titles.

January 11, 2010 RAW: Mike Tyson was the guest host and Shawn Michaels attempted to make up with him after their fallout at Wrestlemania XIV backstage like he did to Bret Hart last week. Tyson would have none of it however, and said he enjoyed knocking out HBK and wants to do it again, and then made a match with Tyson & Jericho against DX, and if Jericho & Tyson wins, then Jericho gets a free pass to whatever show he wants. In the bout, midway through, Tyson showed he was in cahoots with DX the whole time and unveiled his DX shirt underneath his ring shirt, and proceeded to KO Jericho with a right, and gave DX the victory. Tyson then reunited with DX, and his son came to the ring, and they all did the DX Crotch Chop to close the show.

January 18, 2010 RAW: Undertaker declined Shawn Michaels' Wrestlemania rematch challenge. HBK said he would have to earn it by winning the Royal Rumble. The guest hosts for this RAW was Don Johnson and Jon Heder. Don Johnson was portrayed as a fan favorite and part of the DX army. Jon Heder was not as lovable, and allied up with Miz and The Big Show. Later a match was made between Big Show, Heder and Miz against DX and Hornswoggle. DX won with Heder getting the beating of a lifetime. Afterward Big Show tried to tussle with them, but DX threw Big Show over the top rope, then Triple H threw Shawn over and got on the mic later to say the Rumble will be every man for himself.

January 25, 2010 RAW: Shawn & Hunter exchange words at the beginning of the show. Shawn says he wants to win the Rumble to face Undertaker again at Wrestlemania. HHH wants to win to try and win the championship on the grandest stage of them all. Both agree it will be every man for themselves. DX then manage to put differences aside and defeated Dibiase & Rhodes in a non tag team title match.

January 29, 2010 Smackdown: DX was suppose to defend tag titles against CM Punk & Luke Gallows, Smackdown GM Teddy Long changed things up after Rey Mysterio and CM Punk interrupted DX's opening interview. Rey was upset with Shawn because he wanted to win the Rumble and face Undertaker at Wrestlemania, and presumed that Undertaker would just steamroll over Rey, who was Undertaker's scheduled opponent at Royal Rumble. So Teddy made Rey vs. HBK and CM Punk vs. HHH. Triple H beat CM Punk, and Shawn and Rey had an awesome match until interference at the end resulted in a DQ.

January 31, 2010 PPV: Royal Rumble: Both HBK & Triple H were in the Royal Rumble match. Triple H entered first at #10, and competed well. HBK entered at #18. Both did some teamwork, but when opportunity presented itself, Shawn superkicked Hunter right out of the Rumble. Shawn made it all the way until the final four, until he got eliminated by Batista. Michaels was shocked, and went into a crazed state, superkicking a ref before finally leaving the arena.

February 1, 2010 RAW: Triple H pretended to be upset with Shawn over him eliminating him during the Rumble, but Hunter said it was cool and he would have done the same thing himself if he had the chance. Tonight there was qualifiers for the RAW Elimination Chamber match taking place at the Elimination Chamber PPV (formerly called No Way Out). Triple H won his Elimination Chamber qualifying match, but Shawn Michaels lost his to Randy Orton, after Randy rolled up HBK in the midst of doing his trademark kip-up. On this show CM Punk & Luke Gallows demanded having their match against DX, but guest host William Shatner made a triple threat tag title match for next week with DX defending against CM Punk & Gallows and also the new tag team of Big Show & The Miz.

February 9, 2010 RAW: Shawn is still obsessed over facing Undertaker at Wrestlemania. DX lost their tag team titles in their triple threat tag team match against Punk & Gallows, and Miz & Big Show where Miz gave a surprise roll up to Shawn and pinned him. Later Shawn confronted Smackdown GM Teddy Long backstage and demanded to get traded to Smackdown and placed in the Elimination Chamber so he could win and face Undertaker at Wrestlemania. Teddy said he could not do that because the Smackdown match was already set. So HBK then Superkicked Teddy Long. Triple H tried to console Shawn Michaels afterward, but all HBK could say was "My career is over."

February 15, 2010 RAW: Shawn Michaels was not on RAW. No DX sketches for this show. Jerry Springer was the guest host where the entire WWE roster went on a charade to fool Jerry Springer that Kelly Kelly was pregnant and banged the whole locker room and could not figure out who the father was until "DNA Tests" revealed that it was Hornswoggle.

February 21, 2010 PPV: Elimination Chamber: Triple H tapped out to John Cena in his Elimination Chamber match. The Smackdown Elimination Chamber match saw Undertaker defending his World Title, and when it was down to Undertaker and Chris Jericho, Shawn Michaels emerged from under the chamber and Superkicked Undertaker, which gave Jericho the victory and the title.

February 22, 2010 RAW: Shawn Michaels explained his actions at the top of the show. He said he cost Undertaker his championship so Undertaker would let him face him at Wrestlemania. Undertaker came out and accepted, but on the condition that HBK put his career on the line if he lost.

March 1, 2010 RAW: DX invoked their rematch clause for the tag team titles against Miz and Big Show. Right when DX looked like they were about to win, Undertaker appeared on the titantron and distracted HBK long enough for Miz to roll up Shawn and pin him. After Shawn left the ring in frustration, Sheamus ran in and beat the tar out of Triple H.

March 8, 2010 RAW: Shawn and Undertaker opened RAW by going at it in a heated verbal exchange. Both men guaranteed victory at Wrestlemania XXVI, and they mutually agreed to add the stipulation for No DQs and No Countouts. Triple H got in the ring and stated he understood why Sheamus attacked him (for costing him his title at Elimination Chamber), and trash talked him some more until Sheamus came out to the ring and challenged Triple H to a match at Wrestlemania XXVI.

March 15, 2010 RAW: Steve Austin was the guest host, and Shawn Michaels confronted him backstage and asked him what he thought his chances of winning were, Austin said he thinks the streak will still continue at Wrestlemania. Shawn responded by saying he will prove everyone wrong. HBK faced Chris Jericho that night and after gaining the upper hand several minutes into the bout, Jericho had enough and left the match to get counted out. Triple H fought Randy Orton, which ended up in a DQ after Legacy and Sheamus interfered to beat up both men.

March 22, 2010 RAW: Shawn Michaels came out to start the show and mentioned how convenient for WWE to release another DVD encapsulating his career right when he was about it to put it all on the line. HBK reinforced how we was going to end Undertaker's streak at Wrestlemania. Guest host Pete Rose interrupted and told HBK that he is going to face Kane tonight so Shawn can avenge Pete for all the nasty things Kane has done to Rose at past Wrestlemanias. Shawn defeated Kane with some Sweet Chin Music later that night. Old Evolution partners reunited for a night as Triple H and Orton teamed up to take on Sheamus and Legacy in a two-on-one handicap match. Sheamus and Legacy got the win after Sheamus pinned Orton with a bicycle kick.

March 28, 2010 PPV: Wrestlemania XXVI: Triple H emerged victorious over Sheamus with a Pedigree in their battle. Shawn Michaels put fourth a hard fought match, but ended up looking at the lights as he lost to the undertaker and thus went into immediate retirement. Booo

March 29, 2010 RAW: Triple H went out in the middle of the show to say a special goodbye to HBK, but got interrupted halfway with an attack by Sheamus. Shawn Michaels closed out the show with his farewell address. He went on to thank the fans, the Hart family, Vince McMahon,, Hunter and many more. Unlike the Ric Flair send-off this one was just mostly Shawn Michaels, but with Helmsley appearing at the tron entrace to give him a big hug, and the two standing in front of a pair of crossed DX glow sticks as the show and HBK's career went off the air. And now since HBK is gone, this will be the final DX history update, barring the random "one-night reunions" they probably will do a couple times a year in the foreseeable future.
---