Shawn Michaels Bio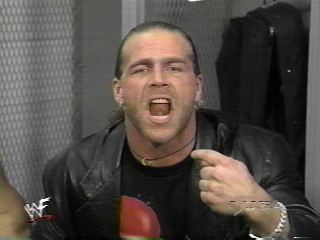 REAL NAME: MIKE HICKENBOTTOM

BIRTHPLACE: SAN ANTONIO, TEXAS

TITLES, TOURNAMENTS WON: WWF World Title(3),WWF Intercontanental Title(3), WWF Tag Title(4),WWF European Title(1),Royal Rumble 95, Royal Rumble '96

FINISHING MOVeS USE: Superplex, Super Kick(Sweet Chin Music)

Shawn started off in southern independents then was signed with the NWA where he and Marty Jannetty won the NWA Tag Titles.

Shawn made his debut at Wrestlemaina 5 in 1989. He and former tag team partner Marty Jannetty(the Rockers)lost to the Twin Towers.The Rockers barely won any pay-per-view matches the only won i remember them winning was at the 1991 Royal Rumble against the Orient Express.They were also in elimination matches at the 1989,1990,1991 Survivor Series where they were eliminated in each match.On October 30, 1990 the Rockers won the Tag Titles from the Hart Foundation in a 2 out of 3 falls match.They were stripped of the tag titles a few hours later though because of a loose rope during the match.

In early 1992 the Rockers were featured in an interview section called "The Barber Shop",During the interview Shawn through Marty through the window and the Rockers were no more.Shawn then started a succesful singles career. He win the Intercontanental title from the British Bulldog in October 1992 at the last episode of Saturday Night's Main Event.Shawn did really great at defending the title he beat Marty Jannetty at the 1993 Royal Rumble,and Tatanka at Wrestlemania 9. On June episode on RAW sShawn did an interview where he was bragging about recent victories over Mr. Perfect and Jim Duggan and challenged anybody to come out and face him. Marty Jannetty came out and with a little help from Mr. Perfect won the IC Title.Shawn wanted revenge and 3 weeks later at a house show Shawn intorduced his new bodyguard Diesel(Kevin Nash) and he helped him win back the IC title.In October Shawn was stripped of the title because he didnt defend it within 30 days.Shawn came back a couple months later saying he was still the champ and brought around his own belt.At that time Razor Ramon was the IC champ,and the two went at in the first ever ladder match at Wrestlemania 10,Shawn lost that match.

Shawn and Diesel won the tag straps on August 27,1994 from the Headshrinkers.The next day at the Summerslam pay-per-view Diesel was defending his IC belt against Razor Ramon when the ref was distracted from Razor's guest manager,Walter Payton, Shawn accidentally superkicked Diesel and caused him to lose the title.At Survivor Series in an elimination match the same thing happened again and Shawn caused Diesel to get eliminated.So the team broke up and forfeited the tag titles.

Shawns next big moment came at Roayal Rumble '95 where he was the first man in and won the Rumble and broke Ric Flair's longest stayed in Rumble record.In February '95 he introduced his second bodyguard Phycho Sid(Sid justice,Sid Vicious).He got his World title shot against Diesel,but lost.The next day on RAW shawn said his scheduled rematch with Diesel at May In Your House is not gonna happen and gave him the night off then Sid was furious with Shawns remarks he beat him up until Diesel came out and their friendship was reborn. Shawn won the Intercontanental title at July '95 In Your House against Jeff Jarrett. At the September '95 In Your House Diesel and Shawn Michaels won the Tag Titles from Owen Hart and Biritish Bulldog(who was subbing in for Yokozuna)but were stripped the next day because of Bulldog subbing. In October he was beat up by thugs in a bar parking lot and suffered a sever concusssion and was forced to forfeit the title to Dean Douglas.Shawn made his return at the Survivor Series in a mixed tag match where his team won and him and Ahmed Johnson were their teams survivors. The next day on RAW he faced Owen Hart and after Shawn through Owen outside the ring, he all of a sudden collapsed in the ring and was rushed to the hospital.

He made his second return at the 1996 Royal Rumble where he won it again and eliminated Diesel who was the last competitor.In February '96 at a house show where it was Shawn/Diesel vs. Undertaker/Bret Hart. Diesel hit Undertaker and Bret Hart with chairs Shawn was really disaapointed and Diesel nailed him with a chair and their friendship was over again.Because of winning the '96 Royal Rumble Shawn got another title shot at Wrestlemania 12 where defeated Bret Hart for the title. The next month at April In Your House he defeated Diesel in one of the best no holds barred matches ever.He then defeated lots of other people defending the title against Mankind,Marty Jannetty,British Bulldog,Steve Austin,and Vader.He reintroduced Sid as his friend again to fight against Camp Cornette at July In Your House in a triple tag match but they lost that one too.Shawn and Sids relationship began to boil down again because Sid got a title shot against Shawn at the Survivor Series.During that match Sid nailed Shawns then manager Jose Lathario with Shawns "kliq cam", later he nailed Shawn with the camera and won the title.When they had a rematch at the '97 Royal Rumble Shawn won the title back with an greatly executed Superkick(sweet chin music).A month later Shawn forfeited the belt on a special Thursday RAW.He said he had a leg injury which had to get surgery.(Shawn later said he faked this injury, i dont know why).Shawn was taking time off,while he was Bret Hart started his Anti-American thin.Bret attacked Shawn and gave him the Figure 4 around the ringpost.Shawn got revenge in April, Bret severely injured his leg at the '97 April IN YOur House against Steve Austin.The day after that PPV Michaels superkicked Bret out of his wheelchair.

Shawn made his return match at the '97 King of the Ring where he battled to a draw against Steve Austin.In July he won the Tag Titles with Steve Austin, but was stripped of it a few days later.Shawn battled the Undertaker at September '97 IN Your House.The match ended in a DQ.A couple weeks later the WwF had another PPV called One Night Only,and for some reason Shawn came out with Hunter Hearst Helmsley and Chyna who helped him win the European title from the British Bulldog.This faction was called DX and the next night Rick Rude was inducted into DX.Shawns next match was at October In Your House where he faced the Undertaker in a special "Hell In a Cell" Match. Shawn was really bloodified and managed to win with a little help from Kane. Shawn faced Bret Hart in his final WWF match at the Survivor Series and won the World Title from him.Shawn and the rest of DX continued with a lot more funny antics(See DX History about them).Shawn severely injured his back at the '97 Royal Ruble in a casket match against the Undertaker,and in February was rushed to the hospital during training.Shawn Michaels lost his belt to Steve Austin at Wrestlemania 14 after missing his superkick.Shawn went in to wrestle against doctor orders.Now Shawn decided to take some time off to heal his back instead of surgery.This is the end of this bio.For further HBK updates check out the DX history section of the page.