Hunter Hearst Helmsley's Bio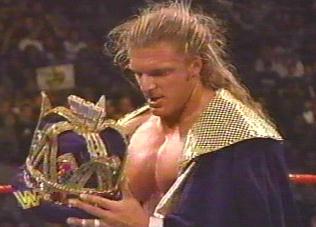 REAL NAME: Jean Paul Levesque
FINISHING MOVES USED:Pedigree
MANAGERS: Mr. Perfect,Master Hughs, Chyna
BIRTHPLACE: Conneticuit
PREVIOUS IDENTITIES: Jean Paul Levesque,Hunter Hearst Helmsley,Triple H
TITLES, TOURNAMENTS WON: Intercontanental Title(1),European Title(2),'97 King of the Ring

Helmsley was trained by Walter "Killer " Kowalski,like all other wrestlers he started in Independents,and then started in WCW as Jean Paul Levesque and use a "Blue Blood,English type Gimmick".He was about to team with Lord Steven regal, but then signed in the WWF and made his debut at the '95 Survivor Serires with the same gimmick. At December '95 In Your House fe faced Henry Godwinn in a Hog Pen Match where the winner is declared when their opponent is dumped in a pen of mud,Helmsley won,but Godwinn picked him up and threw him in the slop anyways..

At the '96 Royal Rumble drawing he drew a blank number and so did Duke Droese,the two would battle on the first ever FREE FOR ALL epsisode where the winner would be the 30th man in the Royal Rumble. Helmsley won after he KO'd Droese with a taped fist,then Gorilla Monsoon came down and reversed the decision. Helmsley waent fist in the Rumble,and lasted 55 minutes!The next day on RAW he won his fist big win over Razor Ramon on RAW.He faced Droese again at February In Your House and won after he nailed Droese with a trash lid. At Wrestlemania 12 he fought against the Ultimate Warrior in his return match.He got the Pedigree pon him but Warrior won anyways. He blameds Sable for th loss. And Marc Mero and HHH got in a back room brawl.They fought each other at May In Your HOuse and Helmsley lost after Mero got lucky with a cradle.

At a May house show Helmsley embraced with the last members of the kliq,and said farwell to Razor Ramon and Diesel(Hall,Nash), a couple of weeks later another kliq member left Sean Waltman(Syxx,1-2-3 Kid,X-Pac).After that happened Helmsley was in a slump. He continud to lose matches,and Mr. Perfect was stealing his Valets he was coming with to in the ring.So Perfect was suppose to return o the ring in a match against Helmsley,but Helmsley injured Perfects leg and seted up a match for Mero(then IC Champ)against Helmsley, Perfect nailed Mero with a chair,which got Helmsley the win and the Intercontinental belt.Mr. Perfect managed Helmsley for a month until he signed with WCW.For a few weeks of January 1997 Helmsley got a new manager named Master Hughs.He was a great bodyguard,but for some reason Helmsley let him go.Then at February 1997 In Your House Helmsley's new Manager, Chyna, appeared and choked Marlena.A feud started between Helmsley and Goldust and Chyna distracting Goldust Helmsley won his match against Goldust at Wrestlemania 13.

Helmsley lost his IC title in February against Rocky Maivia.In June 1997 he won the King of the Ring against Mankind.They then battled to a double countout against each other at July 1997 In Your House.They faced again in a Cage match at Summerslam 97 which Helmsley lost.They faced again at a September RAWE when Foley debuted his new Cactus jack persona(Helmsley lost).Later that month he formed DX with Shawn Michaels and Shawn layed down for him so he could win the European title in late December.He lost the belt a month later when Goldust subbed in for him as HHH(Helmsley had an injured knee), against Owen Hart.Helmsley won the title back from Owen on Mid-March RAW.He defended the title succesfully against Owen at Wrestlemania 14 and April In Your House.Owen the turned heel and a couple weeks later faced him in a non-title match wher Helmsley got part of his ear bit by Owen.For more history of Hunter Hearst Helmsley look in DX history.